ISS completes 'Green' project, receives €11,501 grant
17-June-2017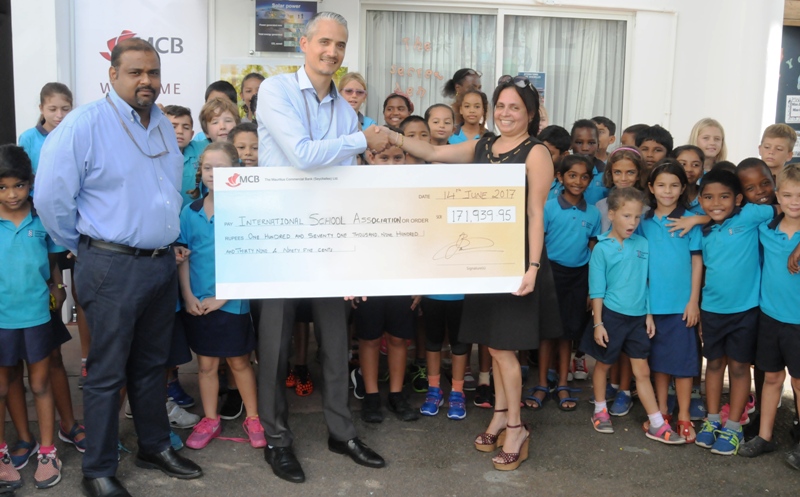 After it installed in December last year a photovoltaic (PV) system which generates no pollution and no greenhouse gas emissions and at the same time reduces the cost of electricity, the International School of Seychelles is the first beneficiary of the Mauritius Commercial Bank (MCB) 'Green Loan' to have actually completed its project. 
The Mauritius Commercial Bank (MCB) launched the 'Green Loan' project back in April last year and it resulted in much interest and subsequently many beneficiaries.
The 'Green Loan' was developed by the Agence Française de Développement (AFD).Itallows local businesses to boost growth by implementing green projects that will generate substantial savings while being kind to the environment.  
It also provides entrepreneurs with an exciting opportunity to infuse new energy into their operations, generate substantial savings and enhance efficiency while caring for the planet and future generations.
Upon commissioning its 'Green' project, the ISS has received a grant of 11,501 euros from the AFD and in a short ceremony on Wednesday morning at the school, the managing director of MCB Bernard Jackson handed over a cheque amounting to R171,939 (11,501 euros) to the chairperson of the board of governors of the ISS, Laura Valabhji.
Mr Jackson described the ISS project as a total success.
"The ISS implemented a photovoltaic project in December and apart from helping them make savings on their electricity bills, it will also contribute to save and protect the environment," he said.
Ms Valabhji pointed out that the ISS wanted to save on electricity bills and with such a project they have successfully managed to accomplish their goal.
"One of the biggest expenses of the ISS is electricity. We wanted to reduce the electricity consumption and also give the kids a chance to save our planet," she added.