Angie Boniface wins top prize in Soroptimist lottery
17-June-2017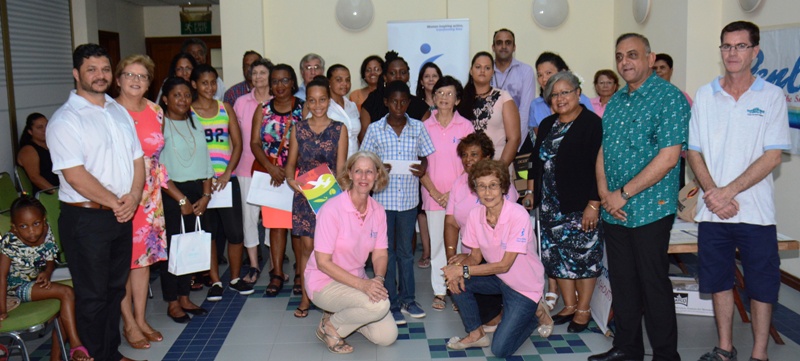 Angie Boniface of Pointe Au Sel has clinched R20,000 and an Air Seychelles return ticket to any regional destination as the top prize of a charitable lottery organised by the Soroptimist International Club of Victoria to raise funds to support cancer-related projects.
Ms Boniface and the other winners of the lottery received their prizes in a short ceremony on Wednesday afternoon at the Oliaji Trade Centre.
Through the lottery, the club has raised R200,000.
"I am really happy to have contributed towards a good cause. It was my mother who bought me the tickets," Ms Boniface said.
The first prize went to Julian Ernesta who won a Toshiba laptop sponsored by VCS; second prize went to Paul Etienne of La Misère who won two nights on bed and breakfast at L'Archipel Hotel sponsored by the hotel, R4,000 sponsored by Temooljee and two return tickets from Cat Cocos sponsored by Inter Island Boats; and Eutra Auredie from Anse Royale won third prize ‒ an I-Phone Six sponsored by Cable & Wireless Seychelles.
Soroptimist president Angelika Maurel said the club will always strive to raise money for cancer-related projects.
"We always try our best to raise money for cancer-related projects. It has always been the case every October as we organise a march for breast cancer month. This year with the lottery we have raised R200,000 that will go towards cancer-related causes," she said.
The Ambassador for Women and Children's Affairs Erna Athanasius, who is also the new chairperson of the executive board of the National Council for Children (NCC), was also present at the presentation.