National Day Celebrations
17-June-2017
Flag raising, symposiums, sports mark Constitution Day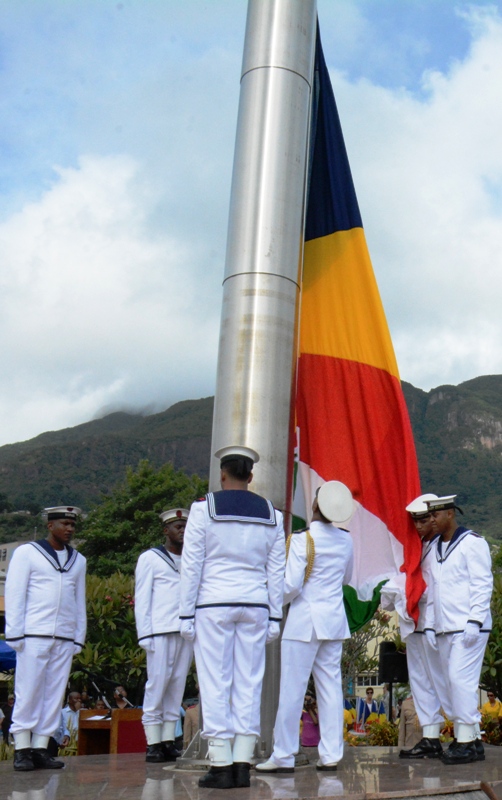 The National Celebrations Committee in collaboration with the Citizens Engagement Platform Seychelles, the judiciary, the Attorney General's Office and the Ministry of Education and Human Resource Development are organising a series of activities to mark this year's Constitution Day, tomorrow.
Seychelles is this year celebrating the 24th anniversary of the birth of the Third Republic with the drafting of the new Constitution in 1993 that saw the return of multi-party politics in the country.
The highlight of Constitution Day remains the flag-raising ceremony to take place at the Moniman Lavwa Lanasyon in Victoria tomorrow morning.
Tomorrow, the National Inter-School Athletics Championship will take place for the last time on June 18 at Stad Linite as one of the activities to mark Constitution Day. As from next year, it will be up to the Ministry of Education Human Resource Development to decide when to hold this inter-school sports competition.
Taking into consideration the changes in the political landscape of Seychelles, the chosen themes of this year's presentations are strongly connected to good governance, cohabitation, the evolution of the Constitution and the functions of the three arms of the State.
This is part of efforts being made to educate members of the public on the importance of knowing the Constitution of the country, its history and the need to adapt to the challenges brought about by cohabitation.
In line with this, the judiciary is today hosting a symposium and exhibition under the theme 'Cohabitation through the Constitution'. This activity will take place at the Palais de Justice and will start as from 5pm.
Today will also see activities to mark the Constitution move to Praslin with a forum on 'Konn nou Konstitisyon' being organised by Aride with the support of Citizens Engagement Platform Seychelles (Ceps). The forum, which is open to the public, is taking place at the district administration's offices at Baie Ste Anne.
The DA's community hall will also host another high-level presentation on the three arms of the State on June 23. This time, the presentation will be done by the Office of the Attorney General.