HIS supports Independent School's rainwater harvesting campaign
17-July-2017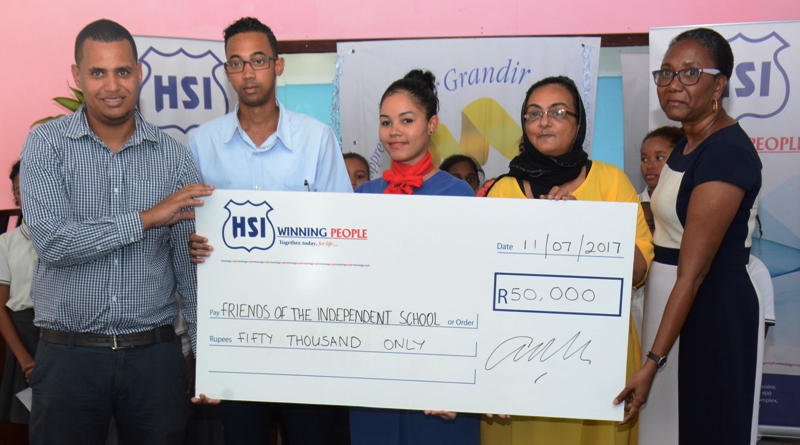 The harvesting of rainwater, a technique by which rainwater is collected and stored for later use, is becoming increasingly important in a world which is becoming more environmentally-conscious.
For this reason H. Savy Insurance (HSI) felt it necessary as part of its corporate social responsibility to help the Independence School in its campaign for a rainwater harvesting system for their primary campus through a donation of R50,000.
It was Albert Duncan, the manager of corporate affairs and compliance at HSI who handed the cheque over to the school director Dr Sherley Marie in a brief ceremony last week at the Independent School.
In attendance were students from the school's environmental club, representatives of 'Friends of Independent School' and staff members from Independent School as well as HSI.
Addressing Mr Duncan and his team, the students gave a short presentation on how the company's charitable gesture would positively impact their school.
Dr Marie further expounded on this: "It is always great when private sectors reach out to help the education sector. HSI's project will enable us to get our rainwater harvesting project underway which in turn will give us a more sustainable way to use energy."
The project is expected to be completed by Term 3 and will be driven by the students themselves.
HSI's corporate social responsibility policy aims to support environmental projects such as these which not only promotes sustainable energy but also encourages student participation.
Although the donation will not cover the whole cost of the harvesting campaign, the money will permit the school in purchasing two water tanks and several pipes.
Nasreen Alibhaye the treasurer of 'Friends of Independent' - which is an association of parents that helps the school out with various projects - claims that the association initiated the projects and played a major role in scouting for funds to finance it.
The rainwater harvested from this project will be used for watering plants and the flushing systems which will in turn lessen the stress on treated water as well as being economically beneficial to the school.