GVI Seychelles – National Scholarship Programme
17-July-2017
A stepping stone to a career within the Blue economy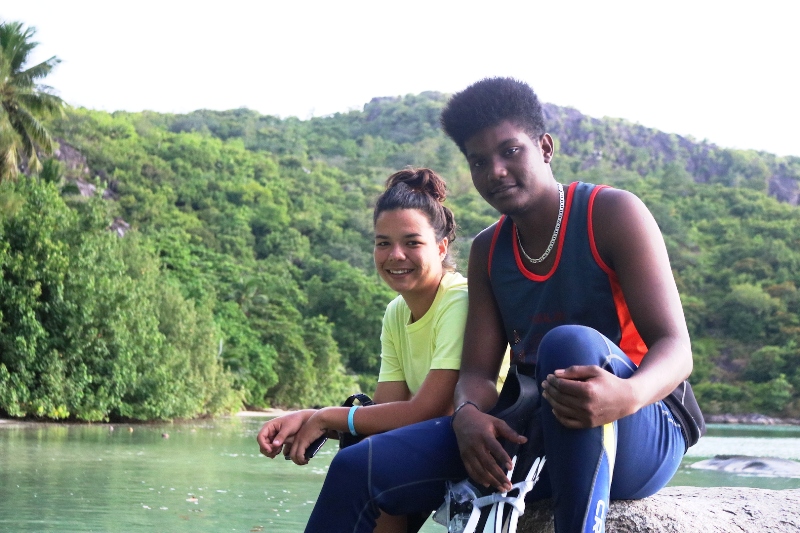 In 2004 Global Vision International (GVI) began its marine conservation expedition at Cap Ternay. This project, which is run in collaboration with the Seychelles National Parks Authority (SNPA), was followed in 2009 by the establishment of a second research base on Curieuse Island and both projects now include an impressive portfolio of research subjects.
The GVI projects are entirely funded by international volunteers, who visit Seychelles to gain hands on experience in the field. This form of sustainable financing enables GVI to assist SNPA with data collection both above and below the water.
An important part of all GVI projects worldwide, is an investment in local capacity building. This is exemplified by the National Scholarship Programme, which provides opportunities for young nationals of host countries to join GVI projects free of charge. In Seychelles, the programme has been running since 2006 and over the last ten years dozens of participants have successfully completed placements on the GVI projects, enhancing their knowledge and career opportunities in the process.
In today's competitive marketplace, employers are often seeking those with experience in addition to qualifications. This is particularly important within the environment sector, where hands-on field experience can provide candidates with a competitive edge over their peers. The Blue Economy strategic roadmap is currently looking towards exploring further the natural capital stored within the nation's vast Exclusive Economic Zone (EEZ), as Seychelles strives to become a sustainable ocean-based economy.  The implementation of a national framework is the first step in creating economic diversification across a broad range of sectors, which should create numerous employment opportunities. This is great news for the local work force.
For those looking to pursue a career within the Blue Economy, be that in conservation, research, business or education, the GVI National Scholarship Programme is an opportunity to gain valuable skills that will be directly transferable to future roles. These range from learning how to SCUBA dive, to conducting field research, assisting with environmental education programmes, and gaining essential professional skills that can be applied to any career.
"During my stay at GVI not only did I get trained on how to identify coral and survey coral recruits, but I also got the opportunity to learn about the newly developed crown-of-thorns starfish control methodology and participated in the eradication programme. This experience has definitely increased my knowledge and understanding of marine ecosystems, but most of all my love for the sea and dedication to marine conservation. Thank you GVI!" says Jennifer Appoo, Aldabra assistant science coordinator, Seychelles Islands Foundation.
The GVI Seychelles projects include a number of research areas directly linked to the Blue Economy in which participants can gain firsthand experience. Coral reef monitoring, shark tagging, mangrove monitoring, beach profiling and nesting sea turtle surveys are just a few of the skills that they can learn. Furthermore, participants who join a GVI programme will receive internationally recognised qualifications such as the PADI Advanced Open Water, PADI Coral Reef Research Diver and Emergency First Responder certifications.
Placements on the GVI National Scholarship Programme last for four, eight or 12 weeks and run year round. Candidates must be 18 years or over and should have an interest in conservation or research. Interested applicants can send a CV accompanied by a statement of interest to the GVI Country Director, email: This email address is being protected from spambots. You need JavaScript enabled to view it.