Cyberwave Computing 2000 - Over 200 graduate in computer courses
17-July-2017
More than 200 students who have followed different courses offered by Cyberwave Computing 2000 for the period June 2016 to June 2017 have graduated.
Frazer Nalletamby from Beau Vallon secondary school emerged as the best student for that period.
The certificate presentation ceremony took place on Saturday at the International Conference Centre Seychelles (ICCS) in the presence of the vice-chancellor of the University of Seychelles Professor Dennis Hardy and the director of Cyberwave Computing 2000 Mario Rotolo.
Frazer Nalletamby is in S5 and has been following classes with Cyberwave for the last two years. He studied Microsoft Word and Microsoft Excel and at present he is following the Microsoft PowerPoint training. It was his mother who collected his prizes as Frazer is currently taking part in the Robotic Competition in the US.
The prizes have been sponsored by Cable & Wireless Seychelles, Gran Kaz and Cyberwave.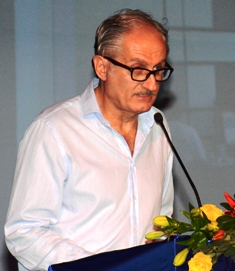 Cyberwave Computing 2000 is an institution that provides technological education to people of all ages. The institution opened its doors in 1999 with a vision to provide quality ICT training at an affordable price.
People from different work places and individuals attended different courses such as GIS and AutoCAD, Graphics and Website Design, QuickBooks, Microsoft Word and Excel, Microsoft Access and Power Point and Publisher and Typing.
Congratulating the graduates, Mr Rotolo said he created Cyberwave in 1999 to serve the people of Seychelles.
"Early in 1999 following personal experiences with local training providers, I decided that it was not fair that ICT training at that time was expensive and delivered in an almost mechanical manner. I successfully completed that course but many others who attended did not stand a chance and why, because the manner in which the course was delivered did not take into account the individual's existing knowledge, abilities and attitude to learning. That thought gave birth to Cyberwave and ICT training in Seychelles became more affordable and accessible to a greater number of people," he said.
People at the ceremony were also entertained by popular artist Elijah and dance performances from Insane Squad.