Penlac offers help following burglary incident at Anse Royale church
13-September-2017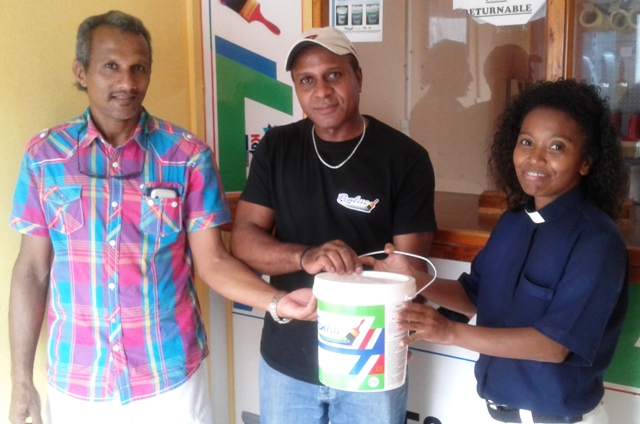 Following the theft incident in the St Saviour's Church at Anse Royale on Sunday, local paint company Penlac has donated some paint which will help in the upkeep and renovation of the church's interior.
According to a communiqué from the paint company, the priest in charge of the church, Reverend Christine Benoit, has noted that Penlac was "the very first one to physically come on the scene on Monday and make an on-the-spot assessment of the damage to the church walls internally".
The Penlac team comprised its chief executive Gafoor Yakub, accompanied by one of his technicians, Ericson Bellard, who kindly offered the company's assistance in the form of its paint products.
Mr Bellard said he carried out a physical assessment and provided his chief executive with a prompt estimate of the paint requirements.
He said the company is always ready to help whenever it can.
Mr Yakub, for his part, stated that he and his Penlac staff were happy to provide this small token of help through the company's CSR proceeds.  
He apologised that he could not replace the loss of other properties like the smart phone and stolen money but he hoped that this small donation of paint will help with the upkeep and renovation of the interior of the Anglican church at Anse Royale.
Penlac says that it usually receives a lot of requests for assistance via its CSR proceeds and it is very difficult to meet everyone's needs.
"We try our best to work with environmentally-friendly NGOs, with schools, health institutions and with the Seychelles Children's Foundation. We also sponsor a number of sports activities. Our aim is to always try and give back to society in some way," said Mr Yakub.