SNPA holds meeting with Ile Cocos marine park's boat operators
13-September-2017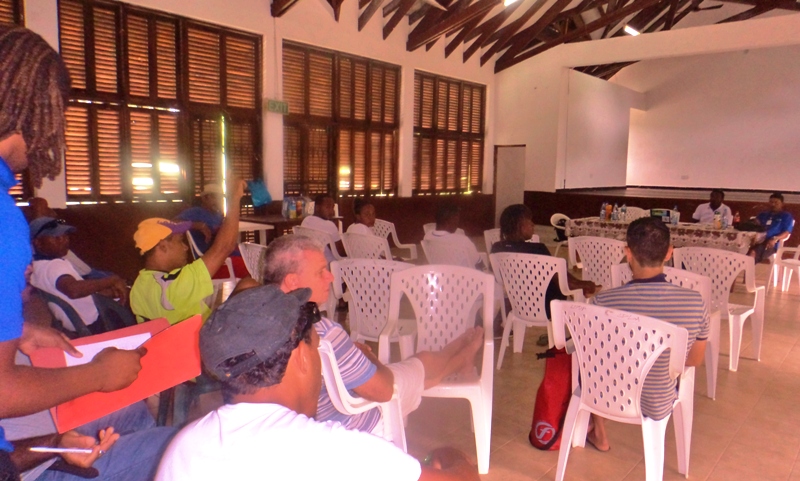 Boat operators who operate in the Ile Cocos marine park recently met the chief executive and staff of the Seychelles National Parks Authority (SNPA) to learn about the authority's plans for the park.
It was also an occasion for the operators to voice some of their concerns.
The meeting took place in the La Digue community centre.
Ile Cocos marine park, the smallest marine national park managed by SNPA, covers an area of 0.01km2. Despite its size it is very popular with tourists visiting La Digue and other surrounding islands.
The park suffered heavily from coral bleaching and the reef is not recovering. The main selling point of the park is sea turtles.
The chief executive of SNPA, Flavien Joubert, shared the authority's plan for Ile Cocos marine park, such as the drafting of a management plan for the park which is scheduled for next year, toilet facilities for park users and reef restoration project.
He also outlined the current ecological status of the park.
The main points raised by boat operators were access to Felicite Island, state of the reef inside the park, interaction with sea turtles and park fees.
The boat operators welcomed the idea of temporarily closing part of the park to allow for coral recovery.
The marine park officer responsible for Ile Cocos marine national park, Cliff Emile, expressed satisfaction with points raised by the operators.
"It is really good that they mentioned temporary closure of the park to allow corals to recover," he said.
In general SNPA is very satisfied with the points raised and will continue to work with the group for improved management of the park.
The parks users also welcomed the meeting as it was the first time that they got to meet with the authority to voice their concerns and put forward their suggestions.