Essay Quatre launches new CD
12-October-2017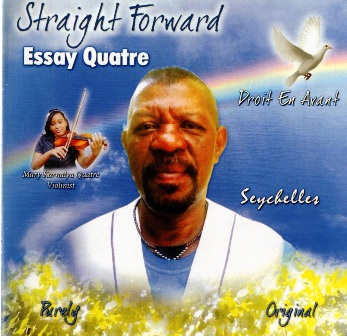 And it's Straight Forward! A compilation of ten songs, the album is a long-awaited event for fans of the 62-year-old veteran Seychellois artist.
"The title of my CD is actually a patriotic advice," says Essay. "What I'm saying is that as a nation, we should not waste time and resources going left and right, but focus on the goals we have ahead of us. We should keep going "Straight Forward".
The album offers a wholesome variety – from a glorious tribute to our natural history (Botanik), a sentimental gratitude to and appreciation of our teachers ('Thank you Teacher') to a nostalgic instrumental testimony of our traditional musical instruments (Reviv nou zistwar).
Straight Forward embodies the artist's philosophical and cultural views of our status quo with a pervasive optimism that certainly adds to one's listening pleasure.
The 5 minutes and 4 seconds 'Mont Fleuri' must surely be the album's gem! A magnificent six-verse anthem in praise of his home district, the song was a winner in last year's District Awards competition.
Essay's 12-year-old daughter Mary Karnalya Quatre plays violin on 'Thank you Teacher', a song he was inspired to write after having been invited to a Teachers' Day celebration.
Retyoun nou lenstriman is a humorous metaphor. "The song is telling us to repair our lives, rectify our mistakes, and change our attitude in order for us to progress." He explains: "An instrument that is out of tune cannot play a good melody."
Sesel Pei Kapital Kreol celebrates the 7th Creole Festival Presidential declarations with exuberance.
Essay Quatre released his first record in 1974 when he was 19 years old. Pa dormi avek Pei must now be among the most coveted creole collectibles.
'Straight Forward' was musically arranged, recorded, mixed and mastered by Darren Bonnelame. It is available at Tanmi and other usual outlets.