19th World Festival of Youths and Students in Russia
12-October-2017
Seychelles delegation leaves today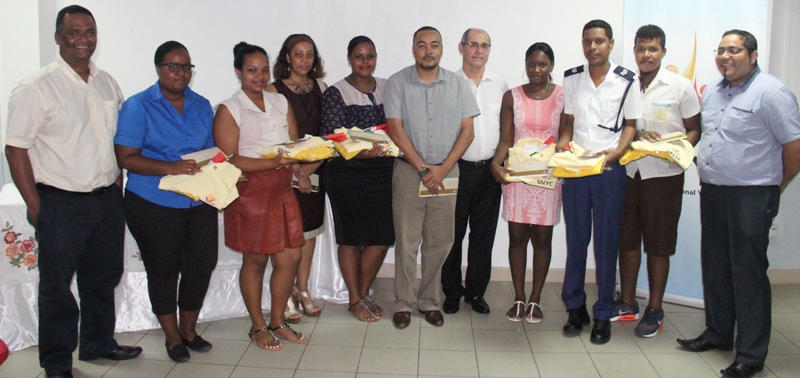 Seychelles will be represented at the 19th World Festival of Youths and Students in Russia from October 14-22, 2017.
The youth delegation leave today and they were presented with their tickets in a small ceremony at the Seychelles National Youth Council (SNYC) headquarters at Orion Mall on Tuesday morning.
The World Festival of Youths and Students is an international event organised by the World Federation of Democratic Youth (WFDY), a United Nations recognised international youth non-governmental organisation. It is held every two years in different countries as a global youth solidarity event for democracy, promoting peace and friendship. It started in Moscow in 1947.
This year, the festival will be held in Sochi, Russia where 30,000 delegates from 150 countries including Seychelles are expected to take part. The young people will engage and share experiences in forums on modern youth challenges, cultural activities and take part in sporting events.
It was the Russian Ambassador to Seychelles, Vladimir Belous, who presented the tickets to the eight members of the delegation. They are special advisor for youth Kevin Vidot as head of delegation representing the Minister for Youth, Sports and Culture Mitcy Larue, SNYC deputy chief executive Ghislaine Belmont as the youth head representative of the six young people ‒ Stessie Leveille, Alicha Ernesta Julio Lucas, Kurstina Esparon, Murchia Sifflore and Cedrick Esther. They have been selected among last year's best overall SNYC youth award winners.
According to ambassador Belous, the Seychelles delegation will be in two groups as one will head to Sochi while the other will be in Moscow as part of the festival will also be held there.
Present at the small ceremony were the principal secretary for youth and sports Fabian Palmyre, SNYC chief executive Alvin Laurence, SNYC board members and staff. The tickets were sponsored by SNYC while the delegates' stay in Russia has been sponsored by the Russian government.
CEO Laurence expressed his gratitude to Ambassador Belous for helping with the trip, adding that then young people of Seychelles will have the opportunity to discover and embrace the Russian culture and also those of other countries.
"This Youth Festival will not only open windows for the youth of Seychelles but they will able to come back empowered and in a better position themselves to better serve other youths in Seychelles," he said, reminding them to be good ambassadors for Seychelles.
Mr Laurence said later that the SNYC would have liked to have sent a larger group but could not make it financially.
"The SNYC will leave it open next time for any youth who have their own means to participate but we will cater for those who will not be able to make it," he added.
Ambassador Belous congratulated those making the trip and said Seychelles as a leading small island developing state, the delegation of young people will not only represent its own but represent other small islands which might not be present at the festival.
"Seychelles is very famous for everything. For talks on any problems, discussions, dancing and singing which you will participate in very well," said Mr Belous
On behalf of the delegates, Stessie Leveille expressed their appreciation to the Russian embassy, the SNYC and youth department for the given opportunity.
SNYC deputy chief executive Belmont said the group will take part in the forum, cultural and sports activities.
Two delegates ‒ police sergeant Cedrick Esther and Seychelles Institute of Art & Design student Kurstina Esparon ‒ said they were happy to have been given the chance to take part in the festival and they will make sure they gather enough knowledge from delegates of other countries to share with their local colleagues when they get back.