Foreign personalities call on Assembly leaders
12-October-2017
Various foreign personalities yesterday called on the leaders of the National Assembly.
The new ambassador of the Kingdom of Belgium to Seychelles, Nicolas Nihon, as well as the South African Development Community Electoral Advisory Council (SEAC) headed by Professor Mpho Molomo met deputy Speaker Nichola Prea in the afternoon.
Earlier in the morning the foreign secretary of the Republic of India, Subramanyam Jaishankar, met the leader of government business Charles De Commarmond and leader of the opposition Wavel Ramkalawan. Dr Jaishankar is currently in Seychelles as a special envoy of the Prime Minister of India to review the relationship between Seychelles and India and furthermore explore prospective opportunities for cooperation between the two countries.
The two leaders meeting Indian foreign secretary Dr Jaishankar
In his meeting with the Belgian ambassador, deputy Speaker Prea discussed the prospect of intensifying relations between the two countries.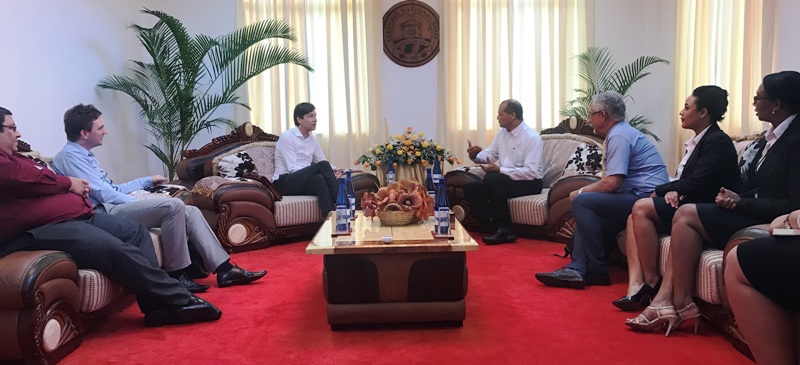 Ambassador Nihon conveyed Belgium's support in further enhancing cooperation ties with Seychelles and exploring new avenues of collaboration in regards to training and investment, as well as discussing the further progress of the 6th National Assembly as a movement of democracy within the African continent.
Ambassador Nihon was accompanied to the National Assembly by political counselor Vincent Willekens.
In his meeting with Professor Molomo from SEAC, deputy Speaker Prea talked about the progress of the 6th National Assembly and further discussed the recommendations presented by SADC after the observations of the presidential and parliamentary elections.
Professor Molomo was accompanied by Justice John Tendwa, SEAC member from Botswana and Dr Mavis Matenge, member of the SADC secretariat.
Describing parliament as the workshop of democracy, Professor Molomo conveyed the council's observations of the positive progress in Seychelles and discussed further matters of electoral systems, legislative processes and the democratic progress influenced by the 6th National Assembly.
Deputy Speaker Prea thanked the Electoral Advisory Council for the support and the discussions revolved around the ways in which the National Assembly are facilitating recommendations and best practices that were previously communicated by SADC.
Both Professor Molomo and the deputy Speaker also expressed the need for stronger collaboration to further develop cooperation with SADC.
Also present during both meetings with the deputy Speaker were  the chairperson of the International Affairs Committee, Jean-Francois Ferarri, the Clerk, Jutta Alexis, and the deputy Clerk, Tania Isaac.
During his meeting with the two leaders in the National Assembly, Dr Jaishankar was accompanied by an Indian delegation comprising the high commissioner of India, Dr Ausaf Sayeed; joint secretary for the Ministry of External Affairs of the government of India, Sanjay Panda; and first secretary of the high commission of India in Victoria, Sankara Subbu.