Word Up Seychelles celebrates one year anniversary
10-November-2017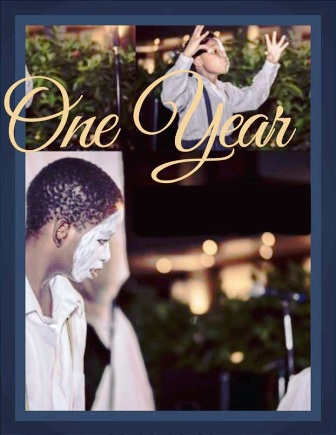 Word Up is an inclusive Open Mic that is held monthly at Callino'z Food Truck in Victoria and is organised by a passionate team of young people, namely Colin Woodcock, Velma Cafrine, Loni Adeline and Alexandria Faure. Over the past year, it has become a powerful movement of inclusivity and unity with the primary aim of supporting people who want to develop their artistic talent and connect with like-minded people. The Word Up team spoke to the Seychelles NATION to explain how they have become a platform for the voice of the youth over the past year.
Currently an independent initiative under The Meraki Foundation, Word Up celebrated its one year anniversary in late October. For this occasion, Alexandria says that an Open Mic was held with the theme 'Mon en Kreol' in celebration of Festival Kreol, encouraging artists to express their identity of what it means to be a 'Kreol'.
Velma adds that they also launched a one year anniversary newsletter which looks back on the development of the movement in the past year.
According to Colin, a significant number of youths have consistently taken part in various activities over the past year and the turnout to mark their one year anniversary was no different.
"Seeing youths with different poetic styles and influences is refreshing and even inspiring!" says Colin. 
When asked what attracts the youth to partake in their activities, Alexandria explains that young people appreciate the non-judgemental, open and inclusive vibe that Word Up has. 
"They feel comfortable enough to express themselves authentically, practice their performing skills and also express their concerns for certain issues that they feel is important," says Alexandria.
Loni adds that there comes a time where you feel like you have much to say but for some reason, our current culture does not exactly promote the voice of the youth.
"I feel like our youth are heavily underestimated and Word Up, while it provides a platform for such voices to be heard, does not inspire the youth to speak as much as the youth inspire the Word Up team to keep going with their wisdom and out-of-the-box ways of explaining themselves," explains Loni.
Speaking about how the movement helps to empower the youth, Velma says that "it gives them the freedom to be who they are and to express themselves in the way they want to because this is something that can be difficult here since we tend to have a culture of bullying or mocking. However, the Word Up event is open and free of judgement, so they feel free to open up and just be themselves".
Many youths have expressed how being involved in Word Up has also made them feel more confident to express their concerns for issues such as climate change and bullying, says Alexandria. She recounts how one youth told her that rather than lashing out at people, she now writes poetry and this indicates that the platform has become a tool for young people to channel their emotions and perspectives on life.  
Colin adds that participants have said that the activities promote various positive changes in them. "For example, one youth stated that she was unable to speak in public before but because of the friendly environment that Word Up provides, she has overcome this fear and is now able to express herself through poetry," says Colin.
Earlier this year, Word Up had a poetry workshop with Dorian Paul Rogers, an award winning Poet from Abu Dhabi and many youths participated and later said they felt that the workshop was helpful in assisting them in honing their poetic skills.
Additionally, children from the Deaf Association have become regular performers at Word Up events where they continue to fine tune their performing skills.
"We continuously try to highlight the importance of their participation for the development of the children and the public at large who come to watch to understand the meaning of inclusivity. Everybody has a voice and regardless of ability, we want this voice to be heard and expressed – in whatever form that is conformable for that person," say the organisers.
For the future, Word Up will be looking at hosting workshops, e.g. performing techniques and poetry techniques and this will be open to all artists and art enthusiasts, including the youth. Currently they are looking for youths who are interested in writing to be contributors for their blog.
Word Up, as a project under The Meraki Foundation, is also looking to contribute towards the cultural life of Victoria and Seychelles as a whole. The organisers say that "the aim is to introduce a new wave of entertainment in Seychelles where having fun is not only about going out to drink!"
The team adds that "they will continue to make sure that the friendly and inclusive element of Word Up is not lost and that they provide the space for other youths to come and express themselves".
Alexandria ends by saying that they hope that the youths grab the opportunities of participating in activities for not only their personal development, but their artistic progress. She adds that "the platform is here and we hope that they continue engaging and developing. The future is what you make it and it starts in the present!"