Local Environmental Science student wins marine conservation contest
10-November-2017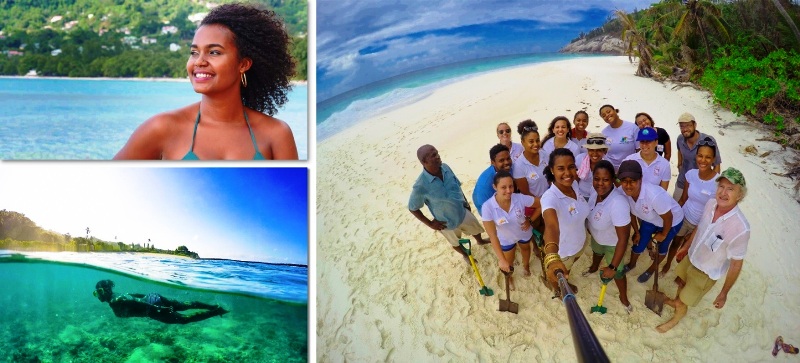 On October 25, 2017, the Professional Association of Diving Instructors (PADI) announced the winners of the #PADI4Conservation contest which was open to the international diving community where entrants could share their story on how they are actively bringing awareness to the health and protection of the marine environment.
22-year-old University of Seychelles (UniSey) student from Praslin, Dillys Pouponeau, is one of the four winners of this prestigious contest. She is an advocate for nature and for the small islands of Seychelles, both marine and terrestrial. Seychelles NATION spoke to Dillys to learn more about the conservation work she has been doing and why she decided to take part in #PADI4Conservation.
"I like participating in competitions especially those related to my field of study and what I am good at. The competition was about PADI and conservation, to show how divers actively bring awareness to ocean health and protection of the ocean in alignment to global efforts such as the United Nation's Sustainable Development Goal 14: 'Life Underwater'. I have participated in many competitions before and I am well aware that being creative and different will certainly capture the judge's attention," says Dillys.
Her entry was an essay about her efforts as the host of a diving TV show called 'FonBlan' on TeleSesel which is actually the first educational diving programme by a team of Seychellois conservationists about the importance of our ocean and the conservation work being done in the country.
Dillys explains that she is engaged in many activities like many divers around the world, however not many are hosting a TV show with the aim of educating the public about marine conservation nationally.
She elaborates saying that "the show is about exploration of popular dive sites in Seychelles. We elaborate on different scenarios occurring in the ocean, effects of climate change and coral bleaching, how they affect fisheries that we depend on and the work being done to revert these changes or help in adaptation. We also talk about the ecology of encountered species during our dives and the importance of why we should protect the ocean and its associated species that each has an important role to play in an ecosystem".
Dillys' passion for environmental conservation started since childhood when she was always up for adventures and very active in her school's environmental club. A visit to Aldabra after her club won the Eco-School competition made a strong impression on her.
"That trip really hit me. Although snorkelling was everything back then, it was not enough. I needed to go deeper but diving was not possible at that time until I could finally afford my open water. That first breath underwater confirmed everything; I knew this was for me. I still have a long way to go but for the moment I need to concentrate on my studies," she says.
Dillys is now in her 3rd year of the B.Sc. Environmental Science and studies both Marine and Terrestrial Science. She believes education is one of the best ways to change people's mind-sets but it needs to be done the right way - well detailed and not too complicated. She adds that it is easy to tell people to protect the environment but they need to know why and what the consequences are.
"Scientific processes should be explained. For example, many people/organisations will tell you to stop littering, especially in coastal areas, but if we are not aware that the litter goes far at sea and kills fish that we depend on, then we will still litter and still complain that there is no fish to eat like before," she says.
Dillys is also a member of Eco Academia - an environmental club at UniSey which conducts a number of activities which she finds beneficial for her studies and career, from clean-ups to island hopping and exploring the conservation work of different environmental organisations.
Speaking about her new journey as an ambassador for Global Vision International in Seychelles, Dillys explains that her role is to promote the Marine Conservation Expedition at the Cap Ternay base. She encourages more Seychellois to experience the same as this will not only benefit the Seychelles National Parks Authority but it will also enable you to contribute in data collection. She notes that you do not need to have a background in environment or marine work so it is a good start for those interested.
Dillys admits that working in nature conservation is not easy just as it is not easy studying it. She emphasises that "you need to be fully committed and prepared to work long odd hours on field, sometimes in extreme weather conditions and risky work places; regardless, that is what makes it fun after all. It is not working for a salary, it is working from your heart for the whole world's future, including yours. I like the saying: "If you do what you love, you'll never work a day in your life" - Marc Anthony.