Regional Marine Science Association holds 10th Symposium
10-November-2017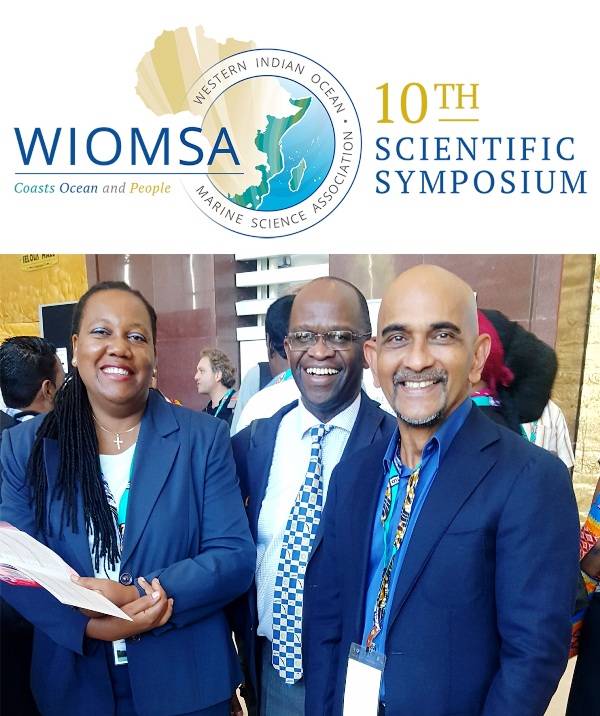 Well-known local environmentalist, Dr Nirmal Jivan Shah, chief executive of Nature Seychelles, took part in the Western Indian Ocean Marine Science Association's (WIOMSA) 10th Symposium, where he made several presentations between October 30 and November 4, 2017 in Dar es Salaam, Tanzania.
One of the presentations was on behalf of the Seychelles Conservation Climate Change Adaptation Trust (SeyCCAT) on funding innovations, a second on coral reef restoration in the Western Indian Ocean region and a third on Blue Solutions and the IUCN Green List. He also facilitated a Special Session on coral reefs and chaired two keynote presentations.
Dr Shah is a founding board member of WIOMSA and the longest serving board member. He is a past president of the association and was the chairperson of WIOMSA's funding arm MASMA for six years. He has played a leading role in the development of most of the programmes of this association. For this, he was made an Honorary Member three years ago which is the highest award given by WIOMSA.
Every three years, WIOMSA holds a scientific symposium – the premier meeting of its kind in the region. It attracts academics, scientists, managers, educators and others to deliver the results of their research and work.
The symposium was attended by about 600 professionals ranging from PhD students to some of the most senior experts in their field. It stretched over six days including keynote lectures by top experts, special sessions held by organisations such as the Indian Ocean Commission (COI) and the International Union for Conservation of Nature (IUCN) and presentations in 42 parallel sessions covering results from a wide array of scientific research and management outcomes. These ranged from deep sea fisheries to the effectiveness of Marine Protected Areas and genetic connectivity to marine culture. Those who were not selected for the oral presentations were included in the scientific poster session – a record number of 340 scientific posters detailing various kinds of research in the region were exhibited.
Marine science is a vast and multidisciplinary field of study about the ocean, its habitats, ecosystems as well as the study of coastal environments, oceanic currents and the sea floor. The ocean is an emerging source of assets for our livelihood – new innovation in marine biotechnology, aquaculture, and marine energy is growing rapidly. The sustainability of the 'Blue-Economy' is closely dependent on the scientific advancement of the ocean environment and our knowledge about how to mitigate the impacts of the multiple human pressures on the ocean ecosystem. There are several associations around the world dedicated to promoting and advancing marine science.
WIOMSA is the largest association of marine and coastal scientists as well as other professionals in the region. It is a membership association with over one thousand members. It covers 10 countries in the Southern and Eastern African region as well as the Western Indian Ocean islands, including Seychelles. It was set up in Zanzibar, Tanzania in 1994 as a non-governmental organisation and it is dedicated to promoting the educational, scientific and technological development of all aspects of marine sciences.
WIOMSA has a particular interest in linking the knowledge that emerges from research to the management and governance issues that affect marine and coastal ecosystems in the region. Its strength is multi-fold including being able to provide consistent funding for regional research and management. The association is involved in a diverse range of activities, which includes, providing research grant programmes, developing regional research agendas, organising capacity and professional development initiatives, linking science to management, environmental advocacy, networking and dissemination of technical information. It also publishes a scientific journal, a popular magazine as well as many technical reports, books and manuals.
Following his return to Seychelles from Dar es Salaam, Dr Shah said that "the symposium attracted a record number of young to senior experts. It was very exciting to be among so many old friends and colleagues and to be able to discuss important issues ranging from fisheries to marine park management. We do not have anything even approaching this kind of group or fraternity in Seychelles and it hampers our work and personal development".