STB attends Swiss International Holiday Exhibition in Lugano
14-November-2017
Island hopping in Seychelles gathers interest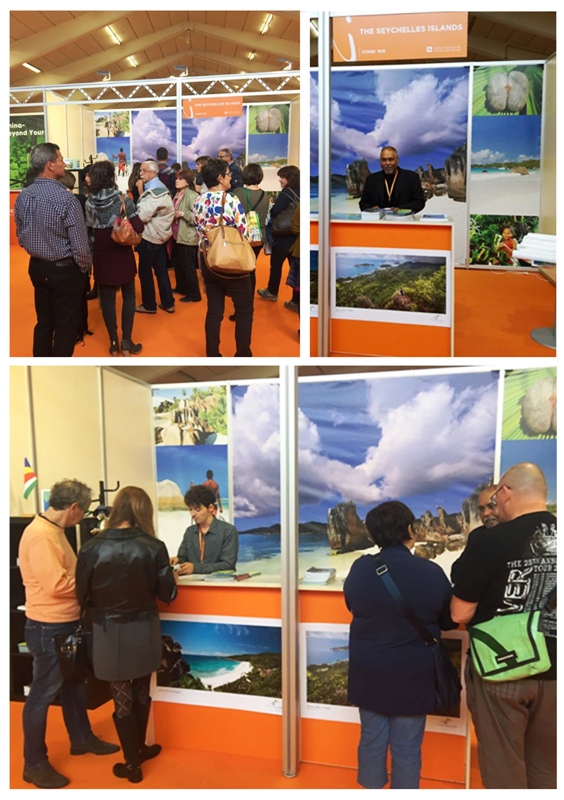 The Seychelles Tourism Board (STB) raised the island destination's profile at the 15th edition of 'Salone Internazionale Svizzero di Lugano.' The annual event is held in Lugano city in southern Switzerland's Italian-speaking Ticino region.
Also known as the 'Swiss International Holiday Exhibition,' the three-day event is one of the biggest tourism fairs in Switzerland.
The Seychelles' delegation at this year's event held from October 27 to 29, was led by STB's director in Italy, Monette Rose.
The 'Swiss International Holiday Exhibition' provides a meeting place for Italian and German speaking Swiss families, singles, young couples among other segments, as well as travel and tourism experts, and press partners to meet international travel trade partners and discover various tourism products from across the globe.
The main targets this year were undoubtedly families with children, young couples aged between 25-30 years and a few honeymooners. The Seychelles team seized the opportunity to showcase the islands to the various groups of potential holidaymakers, highlighting specific products that would be of interest to them.
A number of promotional materials including maps, brochures, shoppers' guides and posters were distributed to the visitors who were also directed to the STB website and Facebook page dedicated to the Italian market, for more digital promotional materials.
The STB representatives were also at hand to answer any queries. The exhibition also saw the participation of the marketing manager of Coco-de-Mer hotel on Praslin, Ash Behari, while Le Meridien Fisherman's Cove Hotel also had its brochures available to the visitors.
The STB stand attracted quite a big crowd who availed of the vast number of brochures and posters depicting the beauty of the Seychelles landscapes, with many of them showing interest in knowing more about the culture, activities such as trekking and excursions, as well as the climate. They also enquired about the most favourable travel periods and flight connectivity.
Ms Rose said: "Two very interesting targeted segments were the older ladies and men as well as the singles. Both groups showed interest in island hopping and in visiting the outer islands. Surprisingly, it was the older visitors, those aged over 50 years and not the youngsters, who had the most knowledge about the Seychelles islands."
"More than the 90% of those who stopped at our stand and who had already been to Seychelles, said that they had spent their holiday between Mahé, Praslin and La Digue," she added.
The exhibition area, which included a spot dedicated specifically to LGBT tourism, played host to more than 200 stands with more than 30 countries represented.
According to a survey conducted one year ago by an Italian travel publication 'L'Agenzia di Viaggi,' 90% of visitors to the Swiss International Holiday Exhibition come looking for information to plan their next holiday and for 87% of these visitors, the information gathered helps to determine their choice of holiday location.
Seychelles has already confirmed its participation at next years' event following the success of the 2017 'Salone Internazionale Svizzero di Lugano.'