Seychelles gets ready to switch to green energy
30-November-2017
Launch of the Renewable Energy Space Analytics Tool (RE-SAT)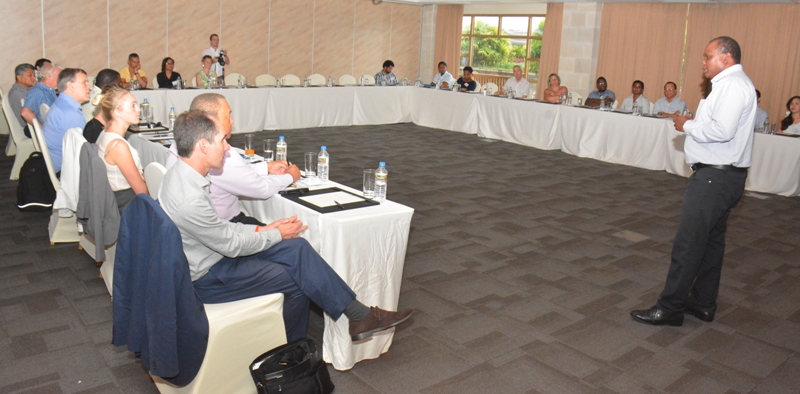 A new data tool has been launched to support the move from fossil fuel to renewable energy.
The Renewable Energy Space Analytics Tool (RE-SAT) project is funded by the UK-Space Agency (UKSA) International Partnerships Programme (IPP) and led by the Institute for Environmental Analytics (IEA), in collaboration with the United Nations Development Programme (UNDP) and the government of Seychelles.
This powerful renewable energy analytics platform being trialled in Seychelles has been developed to support governments, utilities, investors and other stakeholders in small island developing states (Sids) to analyse the energy generation capacity and grid impact of different deployments of wind, solar and wave renewables in order to maximise the impact of investment, reduce financial risk and reduce exposure to volatile fossil fuel markets.  
The Minister for Environment, Energy and Climate Change (MEECC) Didier Dogley launched RE-SAT on Tuesday at the Savoy Hotel in the presence of the principal secretary (PS) for energy and climate change Wills Agricole, British High Commissioner Caron Röhsler, chief executive (CEO) of the IEA Colin McKinnon, head of UNDP Seychelles Roland Alcindor, UKSA IPP manager Athene Gadsby, the IEA technical team, among other guests from stakeholders including the Seychelles Energy Commission (Sec), Public Utilities Corporation (PUC), Seychelles Meteorological Authority (SMA) and representatives from PV suppliers and installers.
Last week, a four-day training was held with officers from Sec, PUC, MEECC and SMA to teach them how to create scenarios for future renewable energy generation.
Before the launch, a high level briefing was held on the new renewable energy planning tool followed by a reception where the guests could ask further questions and check out the new tool.
Minister Dogley said small island states are on the forefront of climate change and there is a very compelling case for Seychelles to move towards 100% renewable energy and to cut down on emission.
"I think there's no way we can do it on our own as we need the help from those who have the technology and knowledge who can pass it on to us," he said.
He thanked the whole team who contributed towards this project costing over £300,000.
In her remarks, HC Röhsler emphasised the need to engage the public as this project moves forward and to encourage them to embrace renewable energy and the impact of it.
"This is about gathering and correctly analysing the right data to identify the most suitable mix of renewable energy sources – solar, wave and wind – to provide a reliable supply and build the right infrastructure to deliver it," she said.
She added that members of the National Assembly (MNA) have approved a fuel import of R676 million for the PUC.
"Does the Seychelles taxpayer want to continue to burn R676m a year and pollute the air? Or to invest that money in making what will, eventually be, free, clean energy?" she asked.
The British high commissioner added that Seychelles currently imports over 100 million litres of fuel oil a year.
"Being 100% renewable energy will not only give Seychelles a place at the top of the moral high ground when it comes to international climate change negotiations. It will also reduce Seychelles' vulnerability to oil price increases and to loss of supply. It would reduce unnecessary shipping disrupting or polluting the precious and beautiful waters of Seychelles' marine environment, and impress tourists," she said.