Canoe association gets new equipment
06-December-2017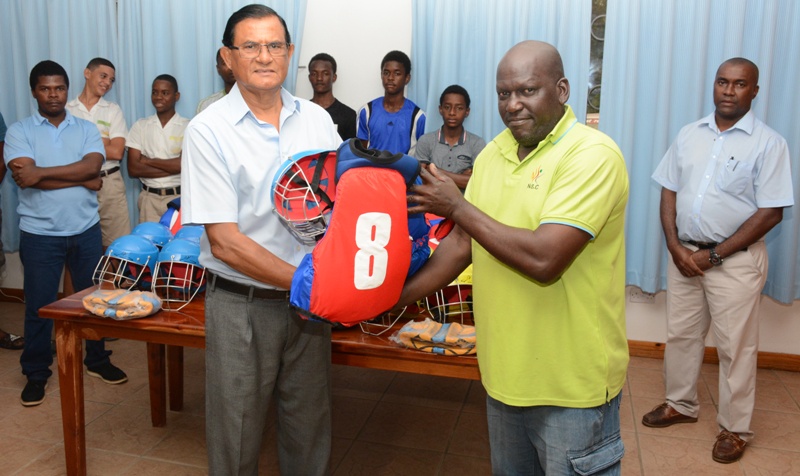 Local canoeists now boast new equipment that will help them train and compete better especially in international competitions.
The Seychelles Olympic and Commonwealth Games Association (Socga) supplied the Seychelles Canoe Association (SCA) with new equipment during a short ceremony on Monday at the Socga headquarters, Stad Linite, Roche Caïman.
Socga president Antonio Gopal handed over the equipment to SCA chairman Philip Albert.
"The equipment proves to be quite beneficial to us, as it gives kids the motivation to move forward with canoeing," said Mr Albert.
This of course was a great motivation factor for the kids as they also attended the meeting and gave a display on how to properly use the equipment. This was done by two young athletes who are part of the canoe team.
The equipment itself offers more protection and easier way to use. This involve equipment such as protective helmets and proper safety gear to provide less danger to the athletes.
"We offer around US $4,000 to each federation each year. We give them the chance to see what they wish to purchase that will improve their sport. We will see to it that we are able to help with what the sport needs. Our main focus is to develop the sport," says Socga president Gopal.
This is a big step forward for the canoe team as the equipment will help them in their pursuit to take part in international competitions next year.
The canoe team comprise young students attending different schools from around Mahé. The money provided was well spent on more equipment, but also more advanced ones. This is helpful as canoeing is becoming a high demand as a sport, especially by students who wish to partake in the activity and such budget will be needed to continue to maintain and stabilise the sport.
Socga secretary general Alain Alcindor was also quite honoured to be responsible for the growth of canoeing as he simply stated: "We are proud to present the canoe association with the equipment".
This being one of the main steps taken to help the sport in the long run. For a sport that has been dormant for a while, Mr Albert explains that this show of involvement shows that the sport won't remain dormant any longer.  
Rodney Rose