Minister Charlette attends the Leadership-4-Agriculture Forum
07-December-2017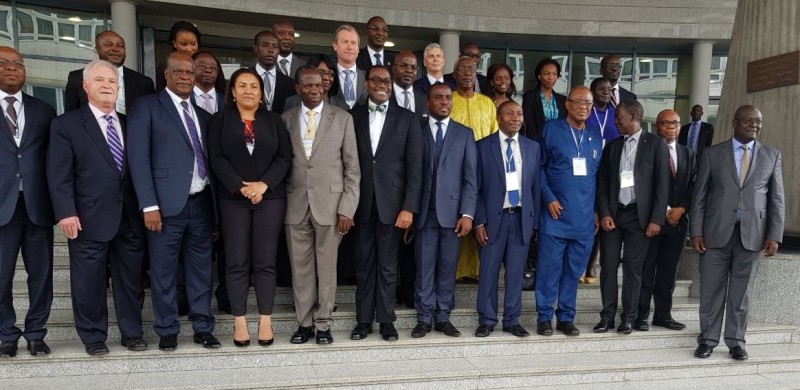 The Minister for Fisheries and Agriculture Pamela Charlette attended the Leadership-4-Agriculture forum at the African Development Bank (AfDB) headquarters in Abidjan, Côte d'Ivoire on November 28, 2017 in the margins of the AU-EU Summit.
Agriculture in Africa is the principal economic activity that generates the primary goods and services to alleviate hunger and malnutrition on the continent. However, the African agriculture and agri-business which on average provides 70% of the national GDP and employment abounds with challenges which include low productivity, high post-harvest losses, insecure land tenure, limited access to finance, limited value-added activities among many others.
In order to transform the said sector there is a need for strategic leadership, strong political will, effective policy reforms and efficient PPP and associated investment.  Efficient coordination is paramount for a concerted approach.
Indeed, Africa's agriculture sector and agribusiness together are projected to create a US $1 trillion agrifood industry by 2030. Despite this tremendous potential, total investment in the sector falls short of levels required to deliver fundamental change and prosperity.
According to the African Development Bank's 'Feed Africa: Strategy for Agriculture Transformation in Africa  2016-2025', the amount of resources required to transform 18 of Africa's most strategic agricultural value chains are between US $315-400 billion over the next ten years.
It is by recognising this imperative, that the AfDB launched the Leadership-4-Agriculture (L4Ag) platform. This platform assembled influential leaders-policy makers, private sector actors and community champions-for dialogue, advocacy and policy action to drive Africa's agriculture transformation.
The Leadership-4-Agriculture (L4Ag) forum was the first in a series of high-level conventions to drive action. Guided by recent findings from the World Bank's '2017 Enabling the Business of Agriculture Report' and the '2017 Africa Transformation Report' by the African Centre for Economic Transformation (ACET), this forum focused on harnessing agriculture and agribusiness as an engine of economic transformation in Africa.
Expected outcomes of the forum included;
(i)                    agriculture and agribusiness champions drive action on growing the agribusiness sector in Africa;
(ii)                  government leaders seek support for policy reforms to drive agribusiness growth in their countries;
(iii)                 private sector leaders gain potential agribusiness investment opportunities; and
(iv)                 partners can identify agribusiness investment opportunities.
The forum, was organised by the AfDB in collaboration with the Rockefeller Foundation, Initiative for Global Development (IGD) and Grow Africa.