'2017 a tough and challenging year for the police,' says Compol
12-January-2018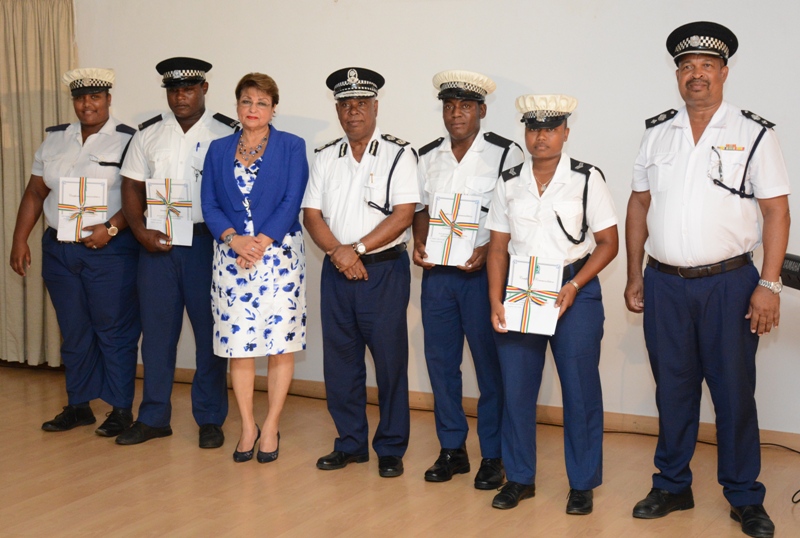 The Seychelles Commissioner of Police, Kishnan Labonte, said 2017 was a tough and challenging year for the Seychelles police force on account of different factors responsible for the increase in certain categories of crimes.
But he added there were also encouraging news for the period November-December which saw a decrease in reactive crimes related to burglary, theft against persons and serious offences and fewer fatalities in the traffic sector. Reactive crime is the police response to assistance when they react to a call or request for assistance. It is to be noted that police performance is largely measured in terms of crime prevention, crime combating and crime investigation and crime detection.
Mr Labonte was speaking during this year's police end of year review gathering at the Seychelles Trading Company (STC) conference room at Bois de Rose Avenue in the presence of designated Minister Macsuzy Mondon, who is also responsible for Home Affairs.
Mr Labonte was accompanied by his two deputies, Romano Songor for the department of Visible Policing and Specialised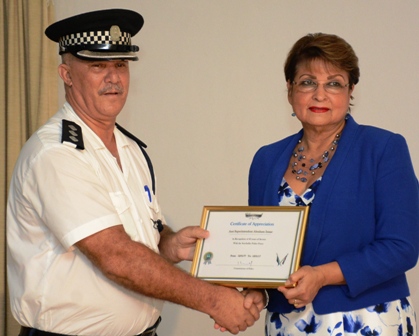 Operations and Ted Barbe for the department of Investigation and Personnel Development.
Also present were officers of the force, both senior and junior.
The event was marked by other significant activities like long-service awards to officers who have served 10, 15, 20, 25, 30 and 40 years in the force.
Assistant Superintendent Abraham Issaac clinched the award for the longest serving officer with 40 years.
Ninety officers have served for 10 years; 13 for 15 years; eight for 20 years, five (including two supporting staff) for 25 years; four for 30 years; two for 35 years and one for 40 years.
Commendation recognition was also bestowed on officers who have gone the extra mile in combating, apprehending criminals and ten officers who retired from the force. Henry Forte is the longest-serving police officer who retired that day.
"Many of those challenges will not vanish overnight but under my command and with the support of the organisation's management team, we'll give our best to bring the police force to new heights. So far we are putting in place certain internal procedures, attending to certain concerns, serious and pertinent issues hindering our development and progress as a disciplinary and law enforcement organisation mandated to ensuring internal peace and security of our people," said Mr Labonte.
He said the force's main focus will be on discipline, quality of service delivery, professional development and appropriate and adequate resources to meet the expectation of the people.
"I strongly believe that as long as we take care of our officers, create a more conducive working environment, have a good retention package be it on their capacity at different levels as per our structure, if we are visible and continue to be proactively engaged in a consistent manner both on the road and in partnership with all concerned parties in the community, we will enjoy success and eventually bring down crime to a low level in this beautiful country of ours," he said.
The commissioner mentioned the investment in the Seychelles police by the government which is being regarded as very important towards the development and progress of our small nation.
Good things that are happening internally include refresher course that has started this month; a new commandant of the police training school; plans for a new police headquarters of which the area has already been earmarked; new police station at Baie Ste Anne probably by the end of this year and also the opening of the Grand Anse Praslin police station.
Mr Labonte also commended members of the force for their dedication, hard work and on their long years of service.
The police choir animated the day with song performances.