Four Seasons Resort Seychelles at Desroches hosts second job fair
13-January-2018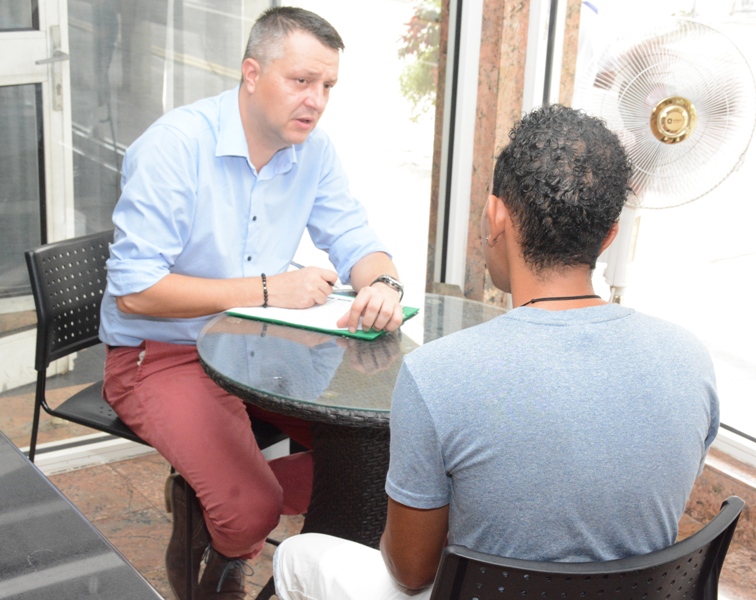 A one-day job recruitment fair was held yesteday in preparation for the highly anticipated opening of the Four Seasons Resort Seychelles at Desroches Island, scheduled to open in March.
With just 71 beach front accommodations, including bungalows, villas, suites and residences, Four Seasons Resort at Desroches Island will be one of the most intimate resorts in the company, allowing employees (mostly local) to work in a friendly local community, where giant tortoises roam for free.
The recruitment fair took place at the former Nouvobanq building where the public was able to choose from among a wide range of hospitality positions, including housekeeping, pool, restaurant, security, human resources, storekeeper, food and beverage among others.
The people navigated through the job fair asking questions, filling out forms, doing interviews as the resort vies to attract and get the best candidates.
According to the recruitment manager of Four Seasons Resort Seychelles at Desroches Island, Alvin Basthilde, 50 locals are expected to undergo full training at the beginning of February if employed by the new resort.
"We are trying very hard to employ mostly Seychellois to work at the new resort scheduled to open in March. We want to have the best candidates to fill the necessary positions we have on offer. By next week, we will be contacting those who have qualified for their position, and they will start their training by February so that we are fully operational by March. People should not be afraid for change; working on an island can be scary, but also a memorable experience, with lots of benefits," he said.
Four Seasons Resort at Desroches will also provide interesting packages which include competitive salaries, service charge, live-in accommodation and meals, access to health clinic and doctors, employee gym and sports areas and water sports.
The new resort on Desroches Island will be a complement to the current Four Seasons Resort Seychelles, which is located on the southwest coast of Mahé.
If you want to have a good career and gain experience in the tourism industry, you can apply for a job online at This email address is being protected from spambots. You need JavaScript enabled to view it.
The accompanying photograph show some of the interested candidates going though the recruitment formalities during the fair yesterday.