UNODC's new regional rep calls on President Faure
13-January-2018
UNODC to reestablish its physical presence in Seychelles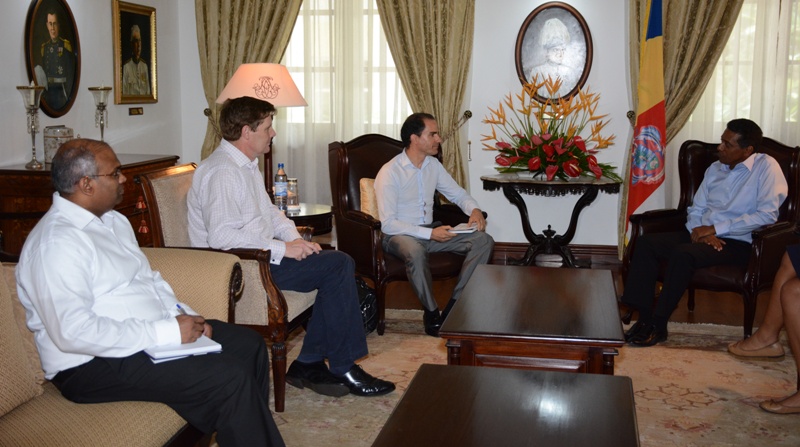 The United Nations Office on Drugs and Crime (UNODC) will reestablish its presence physically in Seychelles by the beginning of April 2018.
The announcement was made by Amado Philip De Andrés, the new UNODC's Eastern African regional representative, after paying a courtesy call on President Danny Faure yesterday afternoon at State House.
His call on the president was to discuss what Seychelles has done in the criminal justice system sector and options to increase more cooperation and support.
Mr De Andrés, who is based in Nairobi, Kenya, was accompanied to State House by UNODC's programme coordinator for Seychelles, Shanaka Jayasekara and UNODC's head of the Global Maritime Crime Programme (GMCP), Alan Cole. Seychelles is the first country Mr De Andrés visits since being appointed.
Speaking to the press after meeting President Faure, Mr de Andrés said that their  
discussions also focused on reforms made in the prison which are still ongoing, maritime security, which Seychelles has been praised for its progress and drug demand reduction where UNODC has pledged for its continuous support.
An expert on drug demand reduction from the UNODC office in Nairobi will be deployed to Seychelles in February to work with the government on the drug reduction demand strategy which will combine with the health and law enforcement angle.
He noted that he was very proud of what UNODC has achieved in Seychelles so far and UNODC will increase even more its presence in and support for Seychelles.
"I think this is important because besides heroin trade in eastern Africa, we have a lot of small new challenges and one of them is cocaine trafficking. We have more than 250 tonnes of cocaine from Latin America coming to West Africa but when they come to West Africa they can also reach Eastern Africa. We are thinking of the possibility to use the Reflecs 3 not only for regional cooperation exercises in Eastern Africa which we are going to support from now on as of January but also for inter-regional exercises with Latin American and European countries. That is a new angle we are going to pursue," he said.
Two maritime UNODC experts are expected in the country today for two weeks to finalise a maritime strategy with the government before it is presented to the public.
Another topic of interest discussed was anti-corruption where UNODC is prepared to provide, at national university level through the Ministry of Education, a certification course for compliant officers in all criminal justice chains.
Mr De Andrés has been in the country for four weeks and prior to meeting President Faure yesterday, he had met with Vice-President Vincent Meriton, the Minister for Home Affairs and Local government, designated Minister Macsuzy Mondon (see separate story), Chief Justice Mathilda Twomey and the Commissioner of Police Kishnan Labonte and representatives of the department of Foreign Affairs. He leaves the country tomorrow.
The UNODC is a global leader in the fight against illicit drugs and international crime. It was established in 1997 through a merger between the United Nations Drug Control Programme and the Centre for International Crime Prevention. It is operational in all regions of the world through an extensive network of field offices.
UNODC is mandated to assist member States in their struggle against illicit drugs, crime and terrorism. In the Millennium Declaration, member States also resolved to intensify efforts to fight transnational crime in all its dimensions, to redouble the efforts to implement the commitment to counter the world drug problem and to take concerted action against international terrorism.