Minister stresses importance of quality control in food production
30-January-2018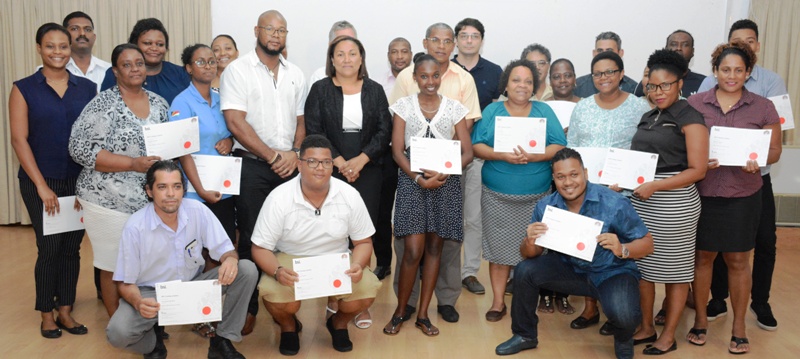 The Minister for Agriculture and Fisheries Pamela Charlette has stressed the importance of quality control in the food production sector.
She was speaking at a ceremony yesterday to present FSSC certificates to participants of a training organised by the Seychelles Fishing Authority (SFA).
The Food Security Safety Certification (FSSC) 22000 is an award that is fully recognised by the Global Food Safety Initiative (GFSI) which aims to enhance the level of quality of food production.
Henceforth SFA hosted a FSSC training session in September last year in order to improve the capability in the fish processing and value addition sector. It encompassed different aspects of the Hazard Analysis Critical Control Point (HACCP), ISO 22000 and other systems which are prerequisites for good manufacturing practices.
Ronny Antat, the development and assessment manager at SFA, stated that the individuals who benefited from the training all hail from various fish processing companies such as ISPC Seychelles and Ocean Product Seychelles (OPS) as well as regulatory bodies such as the Public Health Authority and the Seychelles Bureau of Standards (SBS).
"The FSSC 22000 helps food-related companies achieve global food safety standards hence enabling their businesses to grow," Mr Antat added.
In her speech for the occasion, Minister Charlette focused on the importance of quality control in the food production sector.
"Quality control systems are systems that are put in place in order to reduce mistakes and ensure that the products meet the requirements of the customers. While our industry is expanding we need to ensure that the right capacity and capability are made available to all relevant stakeholders," she pronounced.
She highlighted the fact that the effective management of a globally reputed system such as the FSSC 22000 has the potential to take our local food processing industries to greater heights, especially on the international markets as it boosts consumer confidence in the brands.
Meanwhile the chief executive of SFA, Ronny Renaud, expressed his gratitude for the agencies and companies who were willing to let their staff attend the training.
"It shows the level of commitment in promoting the fisheries sector and partnering with the SFA to achieve its vision," Mr Renaud emphasised.
The ceremony concluded with testimonies from various awardees who highlighted the importance of the certificate to the industry and their line of work.
Caption:
Participants in a souvenir photograph with guests after they had been presented with their certificate