EITI reps meet local media
13-February-2018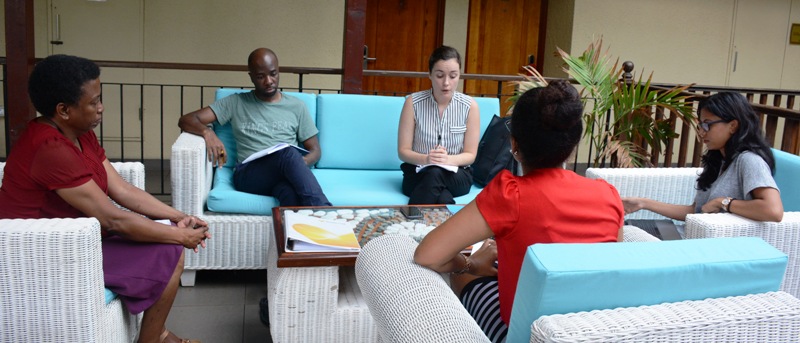 Representatives from the international Extractive Industries Transparency Initiative (EITI) secretariat met members of the media on Friday to finalise their visit while Seychelles is being assessed for EITI validation.
Seychelles has been implementing the EITI since 2014 and there has been two EITI reports published.
EITI international secretariat country manager Ines Scholberg Marques and Ian Mwiinga came to Seychelles last Monday to collect information and hosted stakeholder consultation for the validation.
During the meeting the two representatives inquired about the extent of knowledge which media has about the extractive sector, the media and public's interest in regards to the petroleum sector and some of the issues which the media report on about the sector.
Ms Marques said they have been mapping to understand what information is available and how the government is making information accessible for the extractive sector which entails gas, oil and mining.
They also met the companies to understand how they work when it comes to transparency and accountability and also the civil society to learn about the public demand for information.
"We have been looking at the systems in place and how the EITI has been contributing to make the information accessible. In the two EITI reports are a lot of information on the extractive sector along the whole value chain from how the government issues licenses to companies, what exploration activities that these companies are doing and how much money they have been paying to the government," she said.
She said there appears to be commitment from stakeholders in ensuring that the information is in place.
Ms Marques said a challenge which most countries face in this process is to draft the technical reports in a way that people will be able to better understand what it means.
"We have a wide set of standards which cover many things and not all of them are relevant to the Seychelles so we are looking into how we can adapt the EITI to Seychelles which means to narrow the focus to the key areas here. That is a key challenge when implementing an international standard to countries which are at different stages," she said.
Mr Mwiinga said it is not just a process where they are going to assess but also work together and support Seychelles to help us build from where we currently are.
After their mission in Seychelles they will be preparing a preliminary report and a draft report which will highlight the areas of improvement and it will be shared with the government and stakeholders for their input.
Based on the assessment, an independent validator will draft a validation report then the EITI board will make its final decision about the progress made.