Valentine sales slow
13-February-2018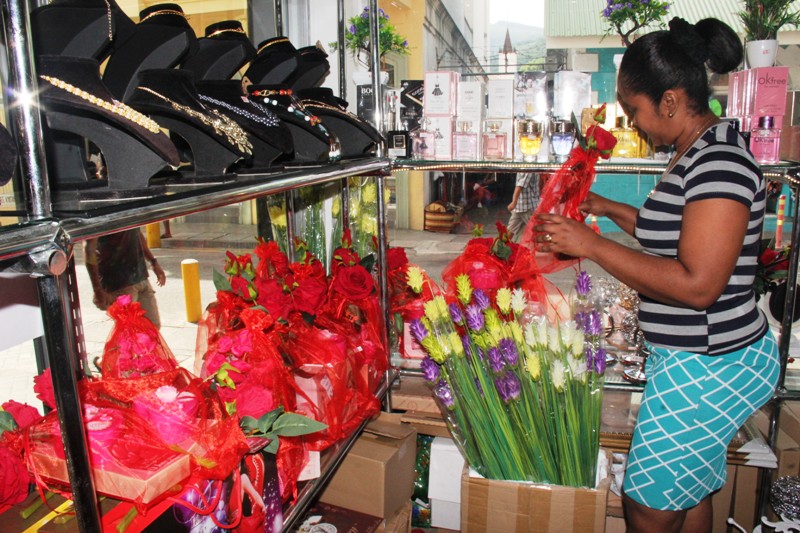 Valentine's Day, the day of romance, is tomorrow and many people will be expressing signs of love to one another. Red is the associated colour for Valentine's Day. People exchange gifts while others go to church.
Not used to being part of our culture, Valentine's Day started to be celebrated on a big scale in Seychelles a few years back and has ever since gained much popularity among Seychellois. It is also a business opportunity for commercial firms.
This year, some hotels, shops and other businesses have geared up to offer clients different choices to celebrate Valentine's Day with their loved ones. As customary, people will be exchanging gifts and flowers with some going out for special dinners and entertainment.  One of the main events for Valentine's Day will be a live show by the queen of love lyrics, the legendary Judy Boucher from Saint Vincent of the Caribbean, during a gala dinner at the Berjaya Beau Vallon Resort & Spa.
As of yesterday morning, very few shops in Victoria have been decorated for this Valentine's Day or seemed to be engaged in Valentine sales activities. Hardly any people were seen buying or carrying Valentine related gift items. The street vendors, who were the main sellers of the various small Valentine gift items in Victoria Market Street, are yet to come out with their products this year at their designated selling points.  Most of the shops Seychelles NATION visited said that sales for Valentine's Day were very slow this year as compared to last year and years before and it seems to them that people are not really in the mood up to now.
"We always do Valentine's sales every year but this year sales are very slow. We do have customers coming in to view but they are not buying. Maybe it's too early for them. By experience, most buy on the last day itself," said Kim Berry Salomon of 'Rodyann's Fashion', Victoria House.
Shanice Hoareau of 'Summer 360' specialised in women's clothing, also shared the same view: "Only two or three people have bought red attire. Seychellois people have the last minute mentality and probably by tomorrow (today) or on Wednesday itself people will start buying as most of the activities for Valentine's Day such as dinners and shows will be on Wednesday but we have a few men who have bought our gift vouchers so we hope to see customers coming in with their gift vouchers". (And that could be after Valentine).
Ms Hoareau said it is always a pleasure for her to decorate her shop for Valentine's Day as she does for other occasions because "it raises and gives a good ambiance not just for our shop but for Victoria and that boosts the morale of our customers and motivates them to come in," she said. 
Most shops hope that sales will pick up tomorrow.
Different shops are selling an assortment of items for this Valentine's such as clothes, shoes, handbags, jewelry, beauty products etc.. and the customary flowers, teddy bears, gift tokens, cards etc..
Other businesses such as the Seychelles Trading Company (STC), Abhaye Valabhji PTY LTD are also offering special promotion packages on various items on sale for this year's Valentine's Day.  
On health issues, Dr Chetty's Health Centre is offering a Valentine's promotion on its body massage package for those who would like to offer their loved ones a body treatment.
Different hotels and restaurants are also organising special dinners and entertainment for the occasion.
Those wishing to pamper their loved ones have until tomorrow to choose from a variety of items and activities on offer.
Valentine's Day, also called Saint Valentine's Day or the Feast of Saint Valentine, is celebrated annually on February 14. It is recognised as a significant cultural, religious, and commercial celebration of romance in many regions around the world, although it is not a public holiday in any country.
Our selection of photos show shop attendants setting the mood for Valentine's Day.