Official visit of the Vice-President of the State Council of Cuba, Mercedes López Acea
14-February-2018
Cuban VP arrives today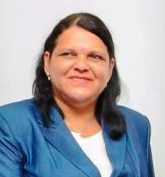 The Vice-President of the State Council of the Republic of Cuba, Mercedes López Acea, arrives here this afternoon on a three-day official visit.
Seychelles is the last leg of a tour which comprised Cape Verde, Equatorial Guinea and Ghana.
The travel is aimed at reinforcing the historical and fraternal friendship ties and solidarity between Cuba and Seychelles.
The official Cuban delegation is also made up of the Deputy Minister for Foreign Affairs, Ana Teresita González Fraga.
Vice-President Acea is expected to arrive at 3.35pm on board a regular Ethiopian Airline flight and will be welcomed at the Seychelles International Airport by the Vice-President Vincent Meriton as well as a greeting party.
From the airport, the Vice-President Acea will head straight to State House for a tête-à-tête with President Danny Faure.
Tonight she will meet former graduates during a reception at the Savoy Resort & Spa.
On the second day of her visit, tomorrow, her packed agenda will include a bilateral meeting at State House followed by a visit to the National Assembly and the Seychelles Hospital. In the evening, President Faure will host a cocktail in honour of Vice-President Acea at the Savoy Resort & Spa.
On Friday, Vice-President Acea and her delegation will fly to Praslin where they will visit the Vallée de Mai nature reserve and the Baie Ste Anne Hospital. She will depart for Cuba on Friday night.
Cuba and Seychelles established diplomatic relations on April 12, 1978 and have maintained close cooperation in health, education, and environment as well as in sports, cultural, economic and social spheres.
In April last year, President Faure witnessed the official inauguration of the Seychelles embassy in Cuba as part of his state visit in Cuba.
The opening of the resident embassy in Havana denotes the dynamic and progressive character of the Cuba-Seychelles relations by being Seychelles' first resident diplomatic representation in the Latin American and Caribbean region.
According to reports, over 6,000 Cubans are helping 29 African countries, and over 40% of them belong to the health sector.
Likewise, some 30,000 African students have graduated in Cuban universities, and currently almost 10,000 are completing their higher education in the Caribbean island.