Conservation: Seychelles leads, world applauds
03-March-2018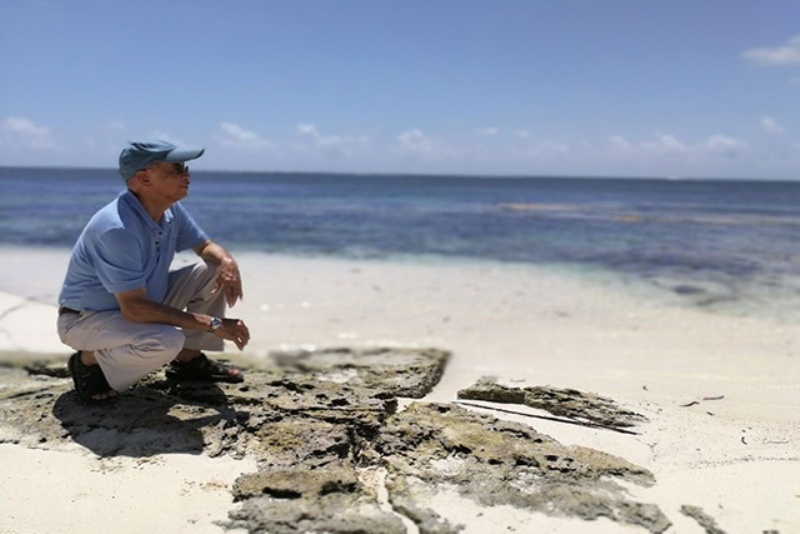 Former President James Michel spearheaded the plan and target to protect 30% of Seychelles' seas by 2020
Top conservationists have said that the US $21 million debt swap for the protection of 210,000 sq km of ocean is a first in the world and other countries have applied to follow Seychelles' example.
Also celebrating the event in an unusual way were leading journalists from US, European and African electronic wires and newspapers, who wrote the most touching accounts of the milestone event.
They spent a week here seeing for themselves the under-ocean flora and fauna that is being shielded, as well as that which has also been affected by climate change.
Besides snorkelling as a group – in the sea around Curieuse – and filming in many parts of Mahé and Praslin, the reporters also talked to fishermen and oil explorers who expressed support for the conservation efforts, but also voiced their reservations.
In a Guardian article entitled Debt for dolphins, Damian Carrington called the move "an innovative exchange of sovereign debt for marine conservation".
He notes that the initiative was backed by the likes of Leonardo DiCaprio, adding it could pave the way to saving large swaths of the world's oceans.
"Seychelles has created huge marine parks in world-first finance scheme," his article announced.
The BBC said "The Seychelles has created protected areas 'the size of Great Britain' in the Indian Ocean," adding that "the island nation plans to protect 30% of its seas by 2020".
The plan and target were spearheaded by former President James Michel.
Recalling this, the German Press Agency (Deutsche Presse-Agentur -DPA) contacted the former head of state, who to some, was the unsung hero who did not appear to be getting the credit he deserved, also the scientists kept referring to his efforts during interviews. The DPA sought to know how he felt about conclusion of the deal.
Mr Michel's comments are published later in this article.
Business Insider US said: "A tropical island nation is promising to save thousands of turtles and dolphins for $21 million off its national debt," adding that the deal is the first debt swap agreement of its kind.
"The Seychelles is stepping up its efforts to protect dolphins, turtles and other rare marine creatures," said the insider, locating Seychelles as "The island nation off east Africa" and went on to say "the pay-off, was covered by US charity The Nature Conservancy".
"Seychelles swaps debt for groundbreaking marine protection," wrote Cypriot Adelle Kalakouti who was here on behalf of the Associated Press.
The videographer started her article thus: "With deep blue waters, white sand beaches and rich marine life, the tiny island nation of the Seychelles is announcing a pioneering marine conservation plan as part of a debt swap deal with creditors".
Talking to Seychelles Nation before she left the country on Sunday, Miss Kalakouti noted that the milestone event had been reported in a wide and impressive variety of ways, "with one US newspaper carrying George Thande's Reuters article in the morning edition, another version in the afternoon issue and yet a third story on the topic in its evening newspaper.
Reuters article, the first to be released  – from the wire's London headquarters –  had the heading: "Seychelles preserves swathes of marine territory in debt-for-nature deal."
"The island nation of Seychelles designated some of its fragile coastal areas for protection from commercial fishing, oil exploration and development in return for a novel deal relieving it of part of its sovereign debt," wrote Reuters East Africa's bureau chief Katharine Houreld, who merged her own reports with those of Mr Thande.
She said Seychelles government officials have been searching for ways to preserve their environment without endangering financial stability.
In his reaction, Former President Michel – who was instrumental in the launch of negotiations for the deal said:
 "I feel a sense of accomplishment. After initiating the comprehensive economic reforms, although the world was talking about financing Tools to mitigate the effects of climate change, I realised that the small island states with large marine areas had to take the initiative and design tools to raise financing, while the mechanism for global financing are put in place. It would take time. And Time was not on our side. There was no time to wait.
"At the same time we had to find ways to reduce our foreign debts profile to succeed with the economic reforms. This is when we came up with this innovative tool – which was a first in the world – and started negotiations to make it happen. I had the support of President François Hollande of France.
"Nature Conservancy and Di Caprio Foundation agreed.  And we continued to gain support from a few small Philanthropic organisations . We succeeded in putting in place the mechanism to set up the fund.
"Today I am proud that this initiative by a small island state  –  which is at the same time a large ocean state –  has succeeded in setting an example to preserve a large area of our EEZ, ensure the health of our oceans and the  sustainability of our vast ocean resources.
"It is a big step forward to implement my vision of the sustainable Blue economy concept."
A number of fishermen said they all support conservation efforts but regretted when regulations are put in place, law abiding fishers will respect them only for others to take advantage and fish in restricted areas.
But Vice-President Vincent Meriton and Environment, Energy and Climate Change Minister Didier Dogley said:
"There would be no point in putting regulations in place if there will be no monitoring.
"Google has offered satellite support and the Indian navy is helping us develop a station on Assumption island, which is not far from the protected area, so we already have many eyes watching over the area."
The fishers seemed unclear on whether they would have or be denied access to the protected areas but Dogley said, "there is no other process in Seychelles in which stakeholders have ever been consulted to the extent they have now, except perhaps issues to do with the constitution".
The second fisherman, Graham Green, a young man who has followed a course in maritime studies said it is important to protect the sea, adding that a few spawning areas will allow fish to grow to the required size and they will swim outside the protected areas where the fishermen will happily catch them.
"Long ago you would fish for just a few hours and not far out to sea and get a good catch of well-sized fish. But these days what you used to get in just one hour takes you a whole day," he said.
The Nature Conservancy's managing director for oceans Maria Damanaki said they are proud this is the first debt swap that has to do with protection of the marine environment, adding it augurs well with Seychelles' Blue Economy initiative.
TNC's director Robert Weary said Seychelles is well known and will attract other countries to start similar initiatives, adding Kenya and Mauritius have approached TNC for similar consideration.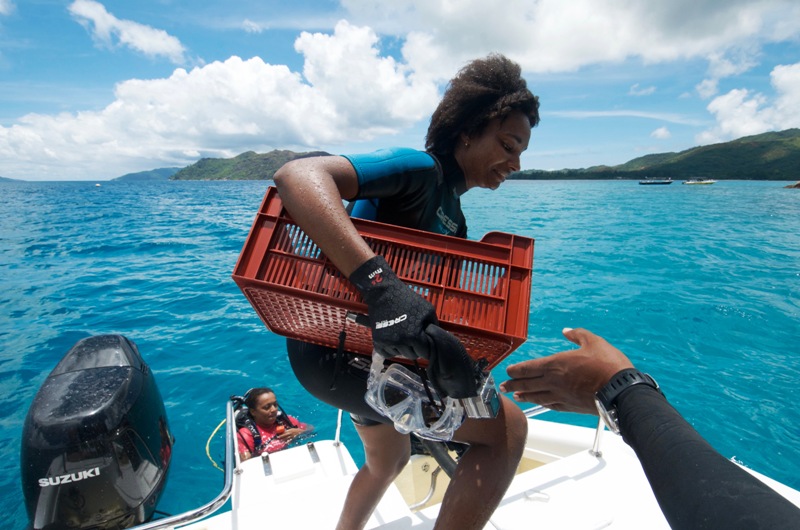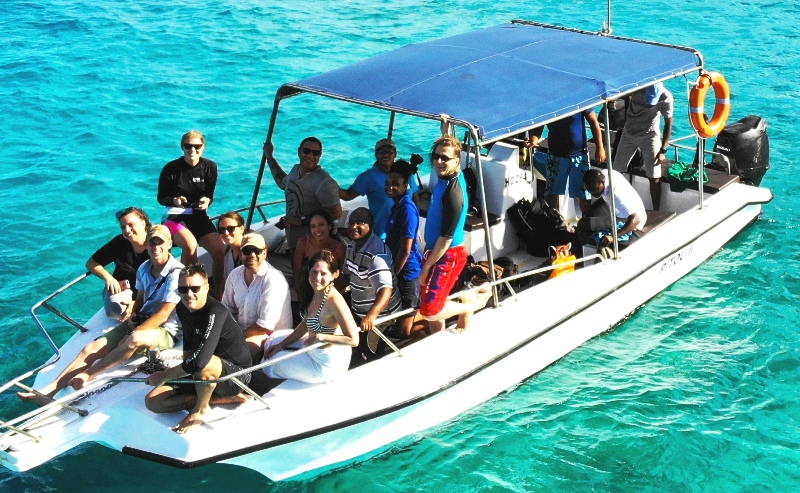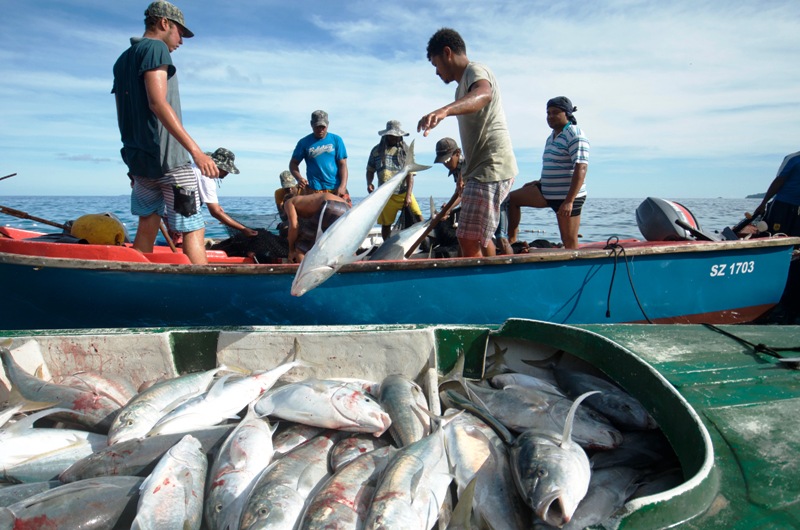 Getting a good catch of well-sized fish is not as easy today as it used to be in the past