STA gets new foreign coach Nicolaus Leringa
13-March-2018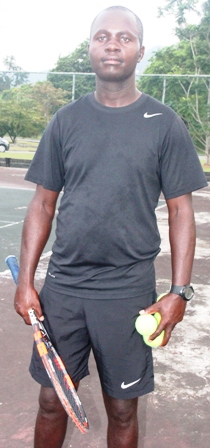 In a bid to recruit young players and raise the level of tennis in Seychelles, the Seychelles Tennis Association has acquired the services of a foreign coach, Tanzanian Nicolaus Leringa.
The class two International Tennis Federation (ITF) coach arrived in the country last week on a two-year contract.
Coach Leringa is not new to Seychelles tennis as he worked with the Seychelles Tennis Association (STA) in 2007 for the preparation of athletes for the Indian Ocean Island Games (IOIG) held the same year in Madagascar, where he also accompanied the delegation as coach.
He said that apart from the very little pool of male and female players who are on a good level, the fact remains that the seniors in general are of a very low level.
"The level of seniors I can say is not very good and it's not impressive. I understand, many good players have quit, so we must find ways to lure them back," said coach Leringa.
He added that "players need to change the mentality that once they can hit a forehand and backhand, they can become good tennis players without a coach by just coming to hit balls on the court".
He noted that "the STA will go to grassroots level to get kids from 10 to 18 years to join tennis. For that, we will go out to schools and pick those with talents, bring them on the court and train them for the future".
Coach Leringa acknowledged the fact that "Seychelles' young tennis players are very talented but you don't tell them that because when you tell them they would mentally think they are good and they don't work hard".
"They have good hands and they listen very well, so my job is to help them reach the level we want them to," he added, noting that Seychelles had some pretty good players in 2007.
He paid tribute to the work done by the previous coaches for the upbringing of talented young players like Damien Laporte, Shawn Andriamaro and Theo Barois.
Coach Leringa was doing some similar work in his home country and said he is very happy to be back in Seychelles.
P. J.