Football: Division one league - Red Star Defence Forces, Revengers, St Michel make winning start
13-March-2018
Red Star Defence Forces defeated Côte d'Or 2-1 on Saturday at Stad Linite while on Praslin Revengers edged Anse Reunion 2-1 and LightStars drew 1-1 against La Passe on La Digue.
On Friday, St Michel thrashed The Lions 6-0 inspired by a hat-trick by Malagasy Evariste on his debut to go top of the division one league.
Ten-man Red Star Defence beat Côte d'Or
This was a match-up between two teams who have title ambitions especially the army team who fielded six new recruits including former Côte d'Or playmaker, Malagasy Jean Tigana.
The Praslin outfit made the better start and should have gone ahead in the 11th minute when Collin Esther released Malagasy Kassah Voavy who was making his debut and he rifled a shot at goalkeeper Jerome Dingwall who dropped the ball and there was Voavy Faralahibe to drill the loose ball home but the celebration was short-lived as the goal was inexplicably ruled out by assistant referee James Emile for a non-existent offside.
The army team broke the deadlock just past the half hour mark when Jones Joubert pulled down Malagasy Jocelyn Fenosoa on the edge of the penalty area as he was boring on goal.
The league's top scorer last season, Jocelyn picked himself up to curl in a beauty in the top corner past a stranded goalkeeper Neddy Lesperance for a 1-0 lead at half-time.
In the 50th minute, Tigana, who otherwise had a quiet game, combined with Jocelyn to race clear but his tame right foot shot rolled wide.
Côte d'Or duly leveled matters in the 69th minute from Collin Esther's inch-perfect cross to Faralahibe who slid the ball past goalkeeper Dingwall for a 1-1 score.
Red Star Defence Forces suffered a major setback in the 75th minute when their defender Michel Souris lashed out at Kassah with a kick in an off-the-ball incident spotted by referee Jean-Claude Labrosse who dished out quite rightly a straight red card to reduce the army team to 10 men.
Red Star Defence Forces though got a lucky break in the 84th minute after Côte d'Or's Oliver Bonte over-indulged with the ball and lost possession to Red Star Defence Forces' Travis Quatre who floated the ball forward to Jocelyn.
Côte d'Or skipper Benoit Marie seemed to have the ball covered but he slowed down which gave Jocelyn the edge on him and the top marksman, who netted 25 goals last season, turned him inside out and blasted the ball past goalkeeper Lesperance to make it 2-1 to claim all the points for his team to please manager Philip Barbé when he spoke to Sports NATION after the match.
"It was important to make a winning start to boost confidence and we played well despite a man short which forced the team to regroup and I would like to congratulate the players," the Red Star Defence Forces manager said.
As for Côte d'Or coach James Barra, he was disappointed with his team for a lapse in concentration which cost them all the points.
"We started brightly but then lost this match due to some individual mistakes late in the match and therefore we are disappointed and we will have to prepare for our next game against league champions St Louis on Saturday which is another tough match," coach Barra told Sports NATION.
Revengers edge Anse Reunion
Revengers came from a goal down to edge Anse Reunion 2-1 at Stad Amitié on Saturday.
Anse Reunion had taken the lead through Dieter Constance for a 1-0 score and Don Fanchette went close for a second with a free kick which came off the crossbar.
But Revengers' new Malagasy recruit Christophe Tovondrainy levelled the score at 1-1 in the second period and substitute Ivan Cedras scored with a sensational strike seconds after coming onto the pitch to make it 2-1.
Anse Reunion, who had five players booked in this match, saw defender Don Fanchette given his marching order by referee Nelson Emile for two yellow cards in the dying minutes of this encounter.
La Passe and LightStars draw
La Passe went ahead in the first half from a free kick by Malagasy Rhino for a 1-0 lead at the break.
But defender Laurel Ladouce gave away a penalty in the second period which was duly dispatched by LightStars' Malagasy defender Noelson Jeannot to earn coach Ted Esther a share of the spoils as he returned to La Digue for the first time since parting ways with Anse Reunion.
Super St Michel slam six against the Lions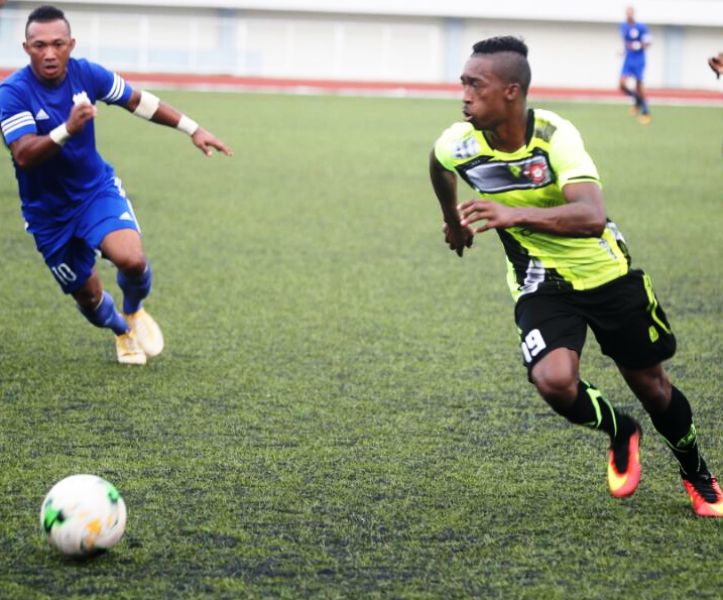 Record league winners St Michel began their title charge for the 2018 season with a strong statement of intent with a crushing 6-0 demolition of The Lions on Friday evening at Stad Linite in front of a decent crowd inspired by a hat-trick by Evariste.
St Michel started in top gear as head coach Rodney Choisy took charge of this Anse aux Pins-based team for the first time after joining from Foresters and gave debuts to four new recruits, namely Perry Bijoux, Julio Brown, Malagasies Evariste and Ludovigue.
However, it was their long serving playmaker Hassan Aly who broke the deadlock in this match with a strong shot in the 17th minute to give his team a 1-0 lead at half-time.
St Michel turned on the style in the second period as Leroy Corallie made it 2-0 with a glancing header from Ludovigue's pinpoint cross on the hour mark and five minutes later, Evariste opened his account for his new team, as he picked up a throw-in from Brown and he allowed the ball to bounce before unleashing a rasping shot which sailed over goalkeeper Moustache and crashed into the net for a 3-0 lead.
Evariste scored with an audacious shot for his brace in the 80th minute from a cross field pass by Yannick Manou and he controlled the ball and embarrassed goalkeeper Moustache from a difficult angle to make it 4-0.
The Lions should have cut the deficit two minutes later from a powerful run down the right by Malagasy Estel Randrina before a telling cross which eluded the St Michel defence and fell to substitute Fabien Cadeau but the former St Louis winger made a meal of his shot.
Evariste grabbed his hat-trick in the 87th minute when he was offered too much space from 30 metres out and he fired a thunderous shot which fizzed past goalkeeper Moustache at the near post for a 5-0 advantage.
His colleague and former Revengers teammate, who has followed him at St Michel, Ludovigue put the icing on the cake with a rasping shot from the edge of the penalty area and the ball filtered through goalkeeper Moustache's fingers for a 6-0 victory for this club whose fans rejoiced in this great win which delighted their manager Andrew Jean-Louis when he spoke to Sports NATION after the match.
"We started brightly with lots of possession but lacked penetration and this improved in the second half where the result speaks volume of our very good performance," the St Michel manager said.
As for The Lions new head coach, Marc Mathiot, it was a baptism of fire as he felt a lack of focus by his players caused their heavy defeat.
"We committed lots of individual mistakes to gift our opponents the goals and we also lacked concentration throughout the match though we played slightly better in the second half but we expected our first match to be tough and we will keep working to adjust our team," coach Mathiot related to Sports NATION.
R. J-L.