Up Close … with ocean activist Annia Marengo
13-March-2018
'There are times when you should fight to achieve your dreams'
Annia Marengo is one of 20 young Seychellois who recently took part in the Blue economy internship. The 21-year-old ocean activist is known for her keen involvement in many youth-led movements such as the SIDS Youth AIMS Hub (SYAH) and the National Youth Assembly. Regardless of her young age, Annia has cultivated a threefold passion for the Blue economy, music and God. Having graduated from the National Institute of Health and Social Studies (NIHSS) last Friday, Annia sat down with the Seychelles NATION for a chat about her life and passion.
Childhood and family life
"I did not grow up with my parents. It was actually my grandmother, the mother of my father, who took me in when I was only 13 days and she has been a constant in my life until now," Annia reveals. She adds that even if she did not grow up with her father, he has always been around to support her.
"My mother, who is a police officer, was not around but I do have two elder brothers and one elder sister on my mother's side whom I have grown very close to."
Annia states that, as siblings, they tend to help each other in whichever way they can despite not having grown up together or, in her own words, "shared our toys". She also has a little brother on her dad's side.
Her most memorable childhood moments was when she was finally reunited with her eldest siblings.
"I was 10 years old when I met one of my brothers on my mother's side and 13 when I was acquainted with my sister," she recounts. "While growing up I knew only of the existence of one brother and since learning otherwise, my siblings and I have always kept in contact. It feels like we have known each other forever."
Education
Annia undertook her studies at the Anse Etoile primary school and English River secondary school. Her burgeoning interest in biology and everything related to the sea -- inspired in parts by her grandfather who was a fisherman -- incited her to choose a course at the Seychelles Maritime Academy. Her IGCSE scores however did not allow for her to take on a course at the Seychelles Maritime Academy and hence she opted for the Seychelles Tourism Academy (STA).
"I only lasted a year [2014] at STA because my heart was not in it; I was not passionate about it."
Having abandoned her studies halfway, Annia took on another challenge and signed up to work at Cerf Island Resort in 2015. From 2016-2017, Annia continued her tertiary studies at the NIHSS where she followed an Advanced Certificate course in Oral Health.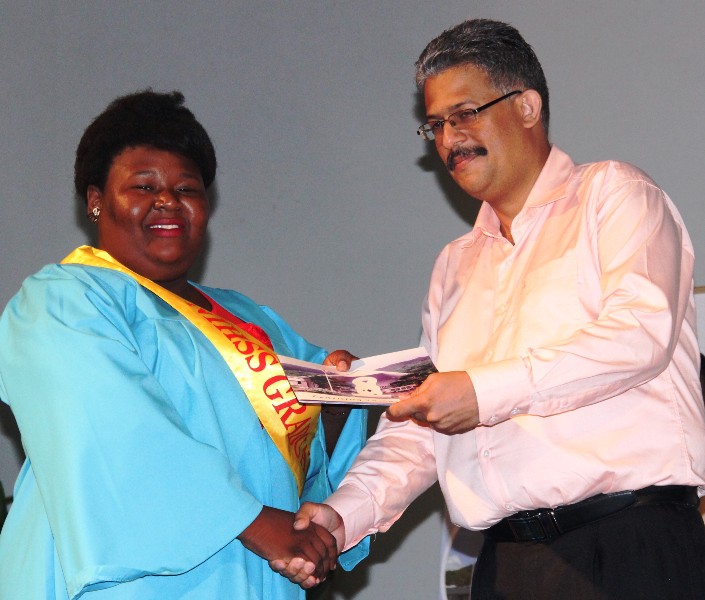 Annia receiving her certificate and prizes during the NIHSS graduation ceremony last Friday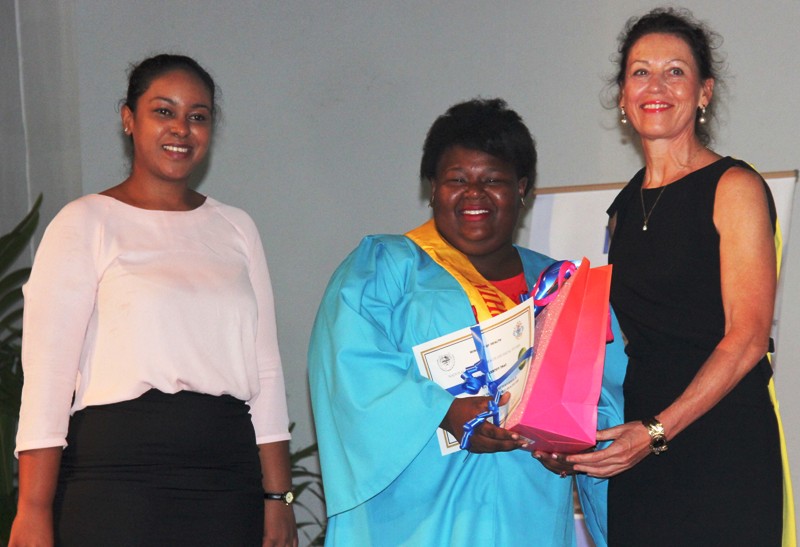 "I really wanted to join a school that was related to biology and NIHSS was one of the best options. Needless to say it was not easy and I'm not just talking about my studies," Annia tells us. She says that she faced a constant barrage of mockery and bullying especially since she was putting great effort in scoring good grades.
"I found a way to surpass the bullying. At times I felt like I should give up but I was determined not to because I had already abandoned one course and I was not going to do so again."
"My grandmother and father had invested a lot in me: their time, their efforts and their money. I realised that they were counting on me to make something of myself hence I continued to persevere."
Annia's perseverance resulted into her being awarded the best performer award in Advance Certificate in Oral Health Care during her graduation last Friday.
Not one to linger when it comes to the pursuit of her dreams, Annia applied for SMA's Advanced Certificate in Fisheries Science and Fishing Technology end of last year and was successful in her application. She started her schooling at SMA in February 2018 and desires to go as far as becoming a marine biologist.
Passion: music
Annia started her journey in music when she joined Seychelles National Youth Council's (SNYC) 'Latroup Lazenes' while in secondary school. One of her first musical accolades was with the group 'Next Generation' in the 4th edition of 'Sesel I Annan Talan' in 2012 where they came first in the group category. 'Next Generation' also took the People's Choice Award for the same category.
Last year saw Annia once more being rewarded for her singing abilities as she came out on top in the 'Bring It On' gospel talent show. She won the original songs category with her own composition entitled 'Mon Loue ou Zezi'.
"My life has not always been an easy one even if people think I'm doing well for myself because I participate in a lot of things. I participate when and where I can and I believe that we should use our talent to do positive things. In my case, I chose to give glory to God with my passion for music."
Annia is attached to the Extra Big Sound record label and has featured with numerous artists.
Passion: Blue economy
With the dream of becoming a marine biologist, Annia was one of the lucky participants of the Prosperity and Environment: Blue Economy Internship programme facilitated by SYAH. From December 11 to 22, 2017 Annia interned at the Seychelles Coast Guard and the Seychelles Air Force. The two-week internship was followed by an educational visit in Mauritius which spanned from January 5 to 12, 2018.
There the interns visited Blue economy linked organisations and places including the University of Mauritius, Indian Ocean RIM Association and Mauritius Oceanography among others.
"My favourite experience was when we visited a reef conservation NGO in Grand Baie, and they took us in a glass bottom boat. We even had the opportunity to assist in a rescue mission to remove a fish-trap which had been placed in a protected area."
Inspirational words
"You have to have a strong spiritual bond with God if you want to achieve something. Things sometimes happen for some reasons and you should not fight with these reasons; maybe what you wanted was not meant for you. And then there are times when you should fight to achieve your dreams. You might not make it today but with experience of your past, you can make it tomorrow. That's what I did and that's what we should all be doing."
By Elsie Pointe