SPF donates art book to schools
13-March-2018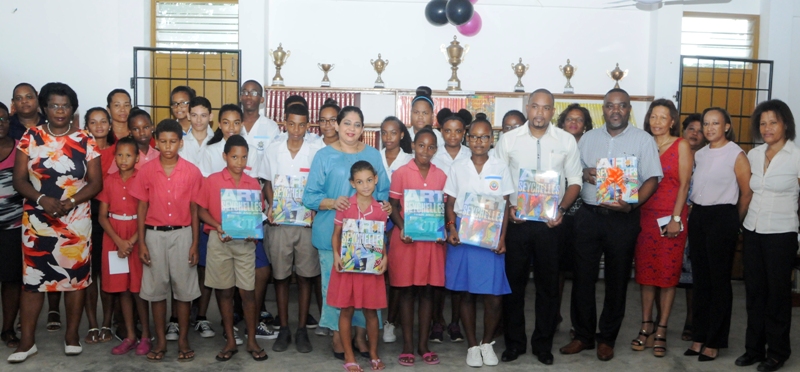 The Seychelles Pension Fund (SPF) has donated several copies of an art book entitled 'Art in Seychelles, Then and Now' to schools.
The book, which has been described as a "wealth of colour, history and personality", should contribute to the learning process of the students.    
The book, written by Martin Kennedy and designed by Mariaan Laubscher, covers the development of visual art in Seychelles, and features more than 400 individual works of art. It is an initiative of Arterial Network Seychelles, a registered NGO that supports cultural projects and especially young artists in the local community.
The book's publication was backed by the SPF which saw it as a chance to encourage the self-employed, such as artists, to contribute toward their pensions, while supporting the arts in Seychelles.
All proceeds from the sale of the books will go to Arterial Network Seychelles.
The first batch was handed over to the English River, Belonie and Mont Fleuri schools last week.
The handover ceremony was done in the presence of SPF's chief executive Lekha Nair, its general manager of corporate services Audrey Nanon and general manager of pensions & benefits Marie-Ange Waye-Hive.
The SPF has been observing  the student's artistic inclinations, alongside their education and the art books will definitely help assist to further develop their education.
The art book contains paintings, drawing, showing  the artistic side of Seychelles.
"This book is a visual documentation of life in Seychelles which explores the realities of people in Seychelles. As an organisation, the SPF is preoccupied with the realities of Seychelles, like helping Seychellois plan for their financial future," Mrs Nair said.
"SPF has identified this unique opportunity to collaborate with Arterial Seychelles as a vehicle to further sensitise different groups within our community of our objectives. It is also an opportunity for SPF to support the self-employed sector," said Mrs Nair.
As a vote of thanks, student Jasmine Morel of Mont Fleuri secondary school read out a poem to those present during the book donation ceremony.
Some 100 copies of this art book will be distributed to schools locally.
Mrs Nair also presented a copy of the book to Jean Alcindor, the director general of Education.