SPTC voices out its operational challenges
14-March-2018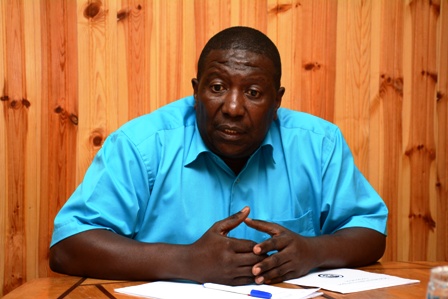 The Seychelles Public Transport Corporation (SPTC) has confirmed that the company is facing some serious operational issues.
These problems which have gained prominence these past few weeks and have become the subject of public criticism were acknowledged yesterday by the company's deputy chief executive Maxwell Julie.
Habitual commuters of public transportation would have noticed some foreign drivers, specifically Indians, who have taken the wheels of some SPTC buses on certain routes. Many have expressed their outrage and concern on the matter on social media.
Mr Julie explained that SPTC has not hired any foreign drivers but have instead negotiated with the employment department to adjust the Gainful Occupation Permits (GOP) of their foreign mechanics to allow them to also work as drivers.
"These foreign mechanics-cum-drivers are not new to SPTC. We have often needed their services during peak season such as in December, but they have become increasingly useful these past few months due to mitigating factors," Mr Julie said.
These factors include the lack of drivers to operate on SPTC's routes as well as a lack of commitment from certain drivers that result into a high level of absenteeism especially on Mondays and end of month periods.
The parastatal body is currently operating with 244 buses and 240 drivers, but is in dire need of 40 additional drivers
"Even if we have more than 200 drivers, we have to take into account the fact that the law requires drivers to take two days off per week while some are on their annual leave," Mr Julie stated.
He said it would be preferable if SPTC had a bus to driver ratio of 1 to 2, meaning 2 drivers per bus, but due to its small labour force, it is nearly impossible.
He continued by stating that the government and SPTC have no provisions, thus far, to employ any foreign drivers.
In regards to shortages of buses and complaints of late buses, Mr Julie said this is caused in parts by the need to replace 71 SPTC buses that are constantly being repaired.
A fleet of 71 buses to replace the old ones is expected to reach our roads by mid or end of 2018, pending negotiation between the governments of Seychelles and India. Other avenues are also being explored in order to provide additional buses.
Traffic jams that have worsened in areas such as inner-Victoria and in the north and southern-regions, pressures being made on SPTC by school buses and a consistent lack of resources over the years even when additional routes such as Perseverance have been added are some of the other circumstances that have been causing the delays and shortages.
SPTC is operating on 89 routes and makes 1700 public trips and 250 school trips on a daily basis aside from weekends and public holidays.
One possible suggestion that Mr Julie has brought to the table is the possibility of SPTC withdrawing its services on secondary roads, which in turn will allow private omnibuses to operate on these routes.
"This suggestion will necessitate more evaluation and, if it happens, will also need to be highly regulated," concluded Mr Julie.