Seychelles' response to health emergencies outbreak evaluated
14-March-2018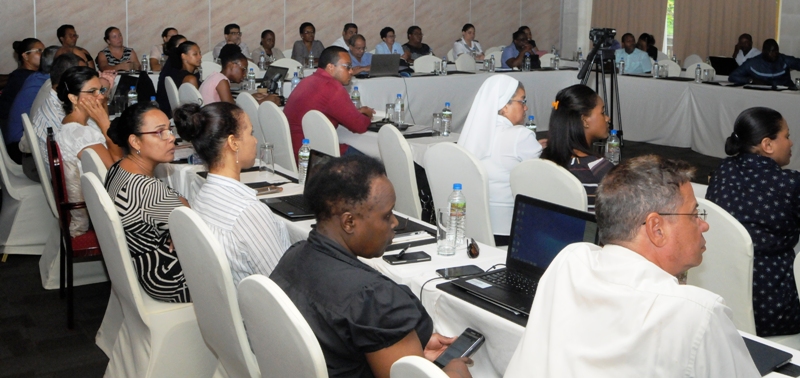 Seychelles has made great strides in regards to the implementation of the International Health Regulations but needs to reinforce its Standard Operating Procedures, WHO epidemiologist Anderson Latt has said.
This was one of the main conclusions of the joint external evaluation conducted by eight international consultants during the whole of last week.
Mr Latt stated that Seychelles has done a lot in terms of detection, prevention and response to public health emergencies.
He further explained that this was reflected in Seychelles' rapid response to the plague outbreak in Madagascar which played a part in hindering the spread of the disease.
"However our findings also found that there are areas for improvement such as coordination between human health, animal health and environmental health. There are certain things being done but Seychelles needs to standardise its efforts," Mr Latt continued.
The five-day evaluation took place at the Savoy Resort & Spa from March 5 to 9 and deliberations focused on the preparedness of the country in case of a local or international spread of diseases.
The International Health Regulations (IHR) are instrument currently being used by the World Health Organisation (WHO) with the aim of helping the international community prevent and respond to acute public health risks that have the potential to cross borders and threaten people worldwide.
Seychelles' technical areas were scored on a scale of 1 to 5, with 1 being the lowest and demonstrate no capacity in the area, while 5 is the highest and demonstrate sustainable capacity.
The proper documentation of plans, policies and Standard Operating Procedures (SOPs) are some of the recommendations proposed by his evaluating teams.
Other priority actions proposed include reinforcement of legislations and implementation to ensure their full implementation, establishment of a One Health coordination committee, revision of safety regulations and securing pathogens in local laboratories.
Dr Jude Gedeon from the Health Care Agency said that the importance of such an evaluation is to identify the gaps which exist in the country's disease preparedness and response systems.
The consultants are expected to collate a report with Seychelles' scores and recommendations.