Beach soccer: Familiarisation Tournament - Real Maldives pull through in final
16-April-2018
● Club Stormy take third place
Real Maldives started the season on a high with victory over One Stone in the beach soccer Familiarisation Tournament final on Saturday at the Cable & Wireless Arena. After an amazing comeback, Real Maldives took the win on a close 9-8 final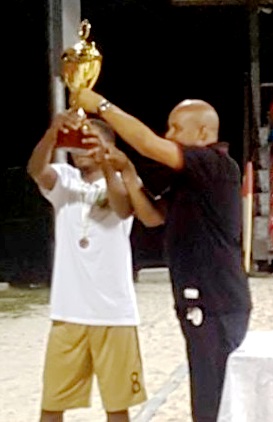 score, while Club Stormy had a decisive 8-4 win against MLUH to finish in third place.
Winners Real Maldives got possession early in the match and had their first shot attempt seconds into the game, only for One Stone defenders to block the shot. One Stone's Alpha Baldé tried to open up the scoring but his shot went over the goal.
With just five minutes into the first 10 minutes, Michael Cadeau struck first for Real Maldives with a perfectly placed shot past goalkeeper Damien Adela to make it 1-0. However, One Stone refused to give up and after winning a free kick Baldé stepped up to redeem himself after his earlier miss with a shot which came off the goalkeeper's gloves and Baldé simply tapped the ball in.
Ryan Bastienne scored a penalty to make it 2-1 for Real Maldives and One Stone's Robin Mathiot tied it at 2-2 with volley. Real Maldives again took the lead at 3-2 through Romany Richard but Aubrey Berlouis netted a goal as the first 10 minutes ended on a 3-3 tie.
One Stone came off the bench with intent as they dominated the second 10 minutes and with just five minutes gone, Baldé struck again with a long range goal to give One Stone the lead at 4-3 for the first time in the match.
Ryan Servina came off the One Stone bench and he made his presence felt by scoring two goals to bring the score to 6-3.
One Stone fans were unhappy with the referee's decision not to award their team a goal when Servina hit a perfectly placed bicycle kick that touched goalkeeper Marcus Madeleine on the way in, but the official adjudged the ball had not crossed the goal line.
But despite this decision One Stone ended the second 10 minutes with a two-goal advantage at 6-4 after Michael Cadeau had headed home another goal for Real Maldives.
One Stone continued on this same momentum in the third and final 10-minute spell as Gino Coopoosamy scored with a long range shot which took a heavy deflection after hitting the ground and the ball hit the back of goalkeeper Madeleine's net.
All hope seemed lost for Real Maldives as they trailed by four goals ‒ 4-8 ‒ but the team made one of the most sensational comebacks when they raised the tempo in attack. Don Anacoura scored two goals in a matter of seconds to close the gap to 6-8 before Michael Cadeau made it 7-8.
Ryan Bastienne then knocked the ball past keeper Adela to even up the game at 8-8.
As fans cheered on to see who would come out as champions, Michael Cadeau stuck a fork in the game when he scored the game-winning goal with seconds left to win the game for his team Real Maldives.
When time ran out and the final whistle was blown, players and fans rushed onto the field to congratulate their team for the amazing win.
Real Maldives captain Randolph Jolicoeur was overwhelmed with joy as he spoke to Sports NATION.
"This match was an entertaining one throughout because these two teams have made their name in local beach soccer and everybody knows that when we're about to compete against each other there is always going to be something interesting. The quality of play was phenomenal and up to standard. You can see now that we have a strong team. We thank our fans and our entourage and hope for more wins during the season," said captain Jolicoeur.     
R. R.