Volleyball: SVF Shield - Fourth consecutive title for Arsu
16-April-2018
● Swimblue Pals rally past Premium Spikers
Women's defending league champions Arsu have clinched their fourth consecutive Seychelles Volleyball Federation (SVF) Shield, while CAVB Zone7 Club Championship winners Swimblue Pals had to dig dip into their reserve to overcome Premium Spikers to retain their title won last year.
The 2018 season openers were played on Saturday at the Palais des Sports, Roche Caïman, where Arsu clashed against SVF Cup winners Cascade, while Swimblue Pals played league runners-up Premium Spikers.
In the women's match, Arsu started on a high tempo, even stretching their lead to 20-13 in the first set, before allowing
Cascade to redeem themselves and close the gap to only three points. In the end Arsu won it 25-22.
The second set however was closely contested with both teams scoring and exchanging lead, before Cascade made it 23-18.  Arsu managed to score four more points before losing the set 22-25 as Cascade tied the game at 1-1.
Set three was also a close contest until Arsu managed to take a 21-17 lead and stayed ahead for a 25-19 win and a 2-1 lead.
In an entertaining fourth set, Cascade were all out to level the match but the closest they got to Arsu was a 7-7 tie early in the set. Arsu then remained in the driving seat and went on to win the set 25-21 and the match 3-1.
Commenting on his team's performance, Arsu coach Julien Onezime said he was satisfied with the result. He explained that as "readjustment due to the absence of my two key players ‒ Jerina and Marielle Bonne ‒ I came up with several game plans, depending on various possible situations during the match".
In terms of the players' adaptation to the game plans, coach Onezime said it was a bit difficult as some of them were struggling to fit in.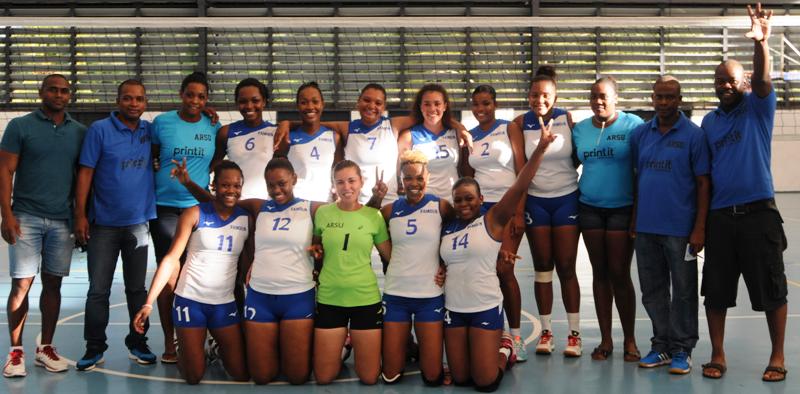 He, however, added that he was expecting a tougher opponent in Cascade due to his team's present form.
In the men's match, Swimblue Pals, who just endured two international competitions, were stunned in the first set by underdogs Premium Spikers who took an early 20-11 lead before winning the set 25-14.
Premium Spikers, who have re-acquired the service of coach François Ally, remained consistent in the second set which was closely fought as Swimblue Pals stepped up their game.
They managed to hold on to the league champions up to a 17-17 tie. With captain Ian Furneau in command, Swimblue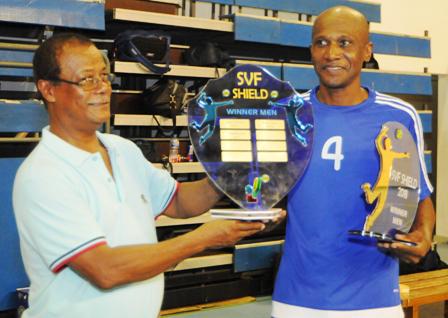 Pals then switched to stronger gear and went on to win the set 25-22 and equal the match at one set apiece.
In set three, Premium Spikers were again well organised in their game as they managed to close an early 6-1 gap, tying the score at 12-12.
Swimblue Pals then displayed a superior physical condition and with a more experienced line-up, the boys of manager Hughes Hoareau marched on to win the set 25-21 for 2-1 lead.
In the fourth set, despite trailing 1-2, Premium Spikers led by captain Paul Rose were not ready to give up as they kept pushing forward and even managed to level the score at 16 points apiece.
A lack of concentration on their part, however, allowed Swimblue Pals to score some vital points to end the set 25-21 and win the match 3-1.
Manager Hoareau said he was delighted with his team's performance, especially after taking part in the two recent international tournaments and also with four injured players in the team.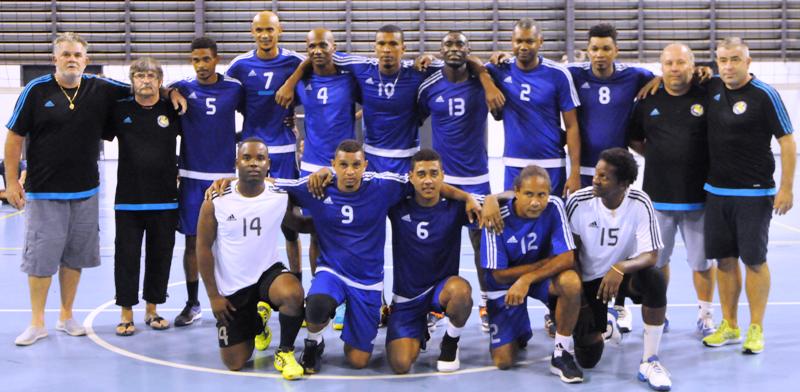 He however expressed his frustration regarding their usual training ground which he said was occupied during the week.
He also thanked Neo Boys who allowed them to use the court in preparation for the match.
As for the new season ahead, Mr Hoareau said Swimblue Pals will work on their mistakes to achieve better performance.
He also noted some negative issues which he said should be rectified by the volleyball's governing body for the progression of the sport.
On his part, coach Ally said their central block was the main handicap against Swimblue Pals' attacks. He also associated the loss to some individual mistakes and a lack of concentration.
The winners received their shields from SVF chairman Ronald Wong and treasurer Tahiri Figaro.
R. D.