District leaders learn more on climate change
16-April-2018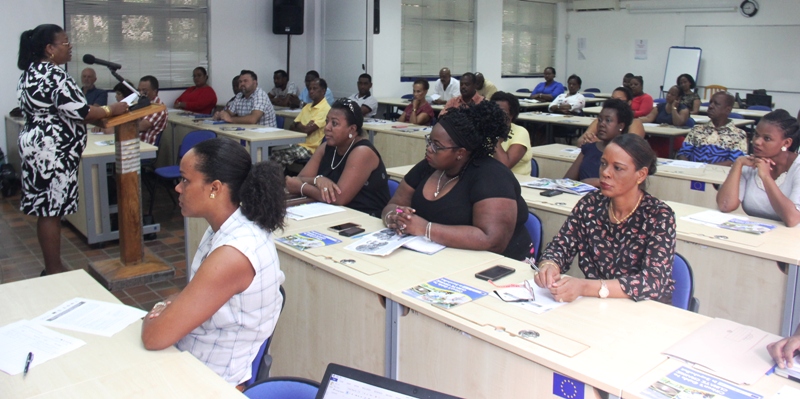 Leaders in the districts have learned how to identify and be aware of climate risks in their communities so that they can plan ahead to reduce their vulnerability.
The one-day workshop was organised by the Seychelles' Global Climate Change Alliance (GCCA+) capacity building programme in partnership with the Adaptation FundEco-System based Adaptation project and the Guy Morel Institute.
It was held last Friday at the Guy Morel Institute, Ma Joie.
As a small island developing state, Seychelles is extremely vulnerable to the impact of climate change such as sea level rise, salt water intrusion, heavy rains and flooding, coral bleaching and drought.
It is critical that the population of Seychelles becomes more aware and pro-active in terms of how they can better prepare for present and future impacts of climate change. Communities that identify such risks and implement strategies to reduce them will be more resilient as climate change impacts become increasingly apparent.
Apart from enhancing their knowledge on climate change and its risks to communities and through video presentations, the participants also did field work exercise at Anse Marie Laure, Mare Anglaise, Mount Simpson, Glacis and North East Point, which are locations where rainfall was measured to assess the effect of climate change.
The workshop was facilitated by Michel Martin from GCCA+, who gave an overview on climate change, the director of the Department for Risk and Disaster Management Paul Labaleine, who parted knowledge on climate change and risks to the communities and Dr Shobha Hajarnis, who talked  on the effect of climate change on our health.
Present at the launch of the capacity workshop were the principal secretary for Energy and Climate Change Wills Agricole; the principal secretary for local government Marie-Celine Vidot; the Dean of the Guy Morel Institute Shella Mohideen; the participants and other representatives of the different stakeholders of the workshop.
In launching the workshop, PS Vidot said that climate change is becoming part of our everyday life, impacting on our livelihood, our environment, our health and impeding our economy and the development of Seychelles and in time of disasters, people will turn to the leaders and sportive groups in their respective communities for guidance, reassurance and a calm voice of reason in stressful situations.
"This first workshop is a stepping stone for us as local community leaders, whereby we will take the opportunity to explore the impact and the importance of climate change adaptation, the significance of local government action and the benefit of a proactive approach to planning for climate change and strategies for successful climate change communication with all relevant partners but most importantly with the people in our local communities," she said.
She told the participants that strengthening their knowledge base will help them work better with all partners in the fight against climate change.
The GCCA+, funded by the European Union, is helping Seychelles to strengthen its climate change sector policy framework and has helped Seychelles in funding different climate change work.