Securing innovation, technology transfer and intellectual property in the region
16-May-2018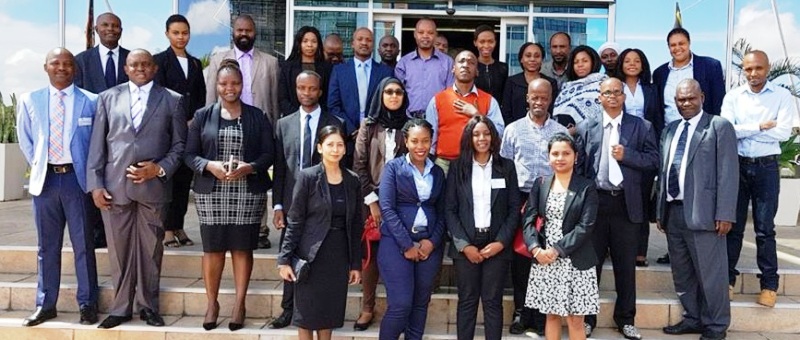 The Southern African Development Community recently hosted two technical expert group meetings in Gaborone, Botswana on the validation of the 'Framework and Action Plan for Innovation & Technology Transfer (I&TT)' and the 'Validation of Draft Southern African Development Community SADC Intellectual Property Rights Framework and Guidelines'.
The meetings were attended by all Southern African Development Community (SADC) member states, which included Seychelles.
SADC is an inter-government organisation in Gaborone, Botswana which aims to achieve development, peace and security, and economic growth, to alleviate poverty, enhance the standard and quality of life of the people of Southern Africa, and support the socially disadvantaged through regional integration, built on democratic principles and equitable and sustainable development (SADC).
Seychelles was represented at the two SADC meetings by Cindhuja Kamalraj, the principal research officer for technology at the National Institute for Science, Technology and Innovation (Nisti). A representative from the Ministry of Finance, Trade and Economic Planning, also attended the second meeting for validation of the draft SADC Intellectual Property Rights (IPR) Framework and Guidelines.
The purpose of the first meeting was to validate the draft Framework and Action plan for I&TT. Technology transfer ensures innovation flow from the basic research stage to commercialisation through intellectual property (IP). IP guidelines and framework play an important role in facilitating technology transfer.  
A primary focus area for SADC is to facilitate structural transformation of the SADC region by way of industrialisation, modernisation and closer regional integration.
Science Technology Innovation (STI) is acknowledged by SADC as a global priority to guide SADC member states to invest in research, development and innovation, to create an enabling environment for technology development, adoption, diffusion and transfer. To achieve the common agenda, the region and its member states will have to create a conducive environment for technology transfer.
SADC conducted a basic study to provide a snapshot of the status of the I&TT in the region. The study analysed the different factors that influence both I&TT and identified the best regional and international practices in order to develop a framework and action plan for the SADC region. In addition, SADC developed the draft report, framework and action plan for I&TT.
The objective of the second meeting was to follow up on the development of a framework initiated in 2016. The IPR Framework and Guidelines encompasses a solid IPR legal framework system, institutional arrangements, capacity for implementation and enforcing IPR, which is required for the industrialization of the region.
SADC like many other regions, acknowledges the critical role of IP in furthering economic progress and subsequently the welfare of its citizens. There is a growing need for SADC member states to protect IPRs for growth and competitiveness. From a regional perspective, the harmonisation of IP policies across national boundaries is critical in an increasingly globalised environment.
Harmonisation of IP framework in SADC member states will rationalise scarce resources, expertise and infrastructure as well as bring in concerted efforts in dealing with matters of IP. The harmonised IP system will also provide a common approach for member states in dealing with provisions for Trade Related Aspects of IPR (TRIPS) flexibilities, new innovation through technology transfer and the duration of IP rights.
Mrs Kamalraj of Nisti says that through the two meetings, she had the opportunity to take part in panel discussions and gained knowledge about the existing SADC Framework and Action plan for I&TT and the Guidelines of Intellectual Property Rights of other member states of SADC.  
She explains that the outcome of the first meeting was to guide the SADC member states to invest in research, development and innovation, adding that Seychelles will have to create a conducive environment for setting up a technology transfer system.
She further adds that encouraging technology transfer is being identified in many developing countries as a described goal, particularly in the context of a knowledge-based economy, where the competitiveness and economic growth are based on the local creativity and innovation.
Speaking about the outcome of the second meeting, Mrs Kamalraj says the SADC member states were guided in their approach to IP management in a range of sectors of technological and strategic importance to the SADC region.
The SADC IP framework has been developed to foster mutual cooperation on areas of IPR, to support the SADC industrial development, trade, socio-economic development, competitiveness, and regional integration.
One of the strategic objectives of Nisti's STI Policy and Strategy 2016-2025 is to set up a National Technology Transfer system as part of the National Innovation System. According to Mrs Kamalraj, the necessary conditions for the set-up of such a system in Seychelles would be:
-           Adequate legal framework (national and institutional level)
-           Organisational infrastructure (technology management organisations and units)
-           To improve funding (government and private sectors)
-           The need of skilled professionals (scientists, technology managers, IP professionals)
-           Education (to provide a sustainable flow of skilled people)
-           A supportive IP system
Nisti's primary objective is to work in collaboration with relevant ministries, departments, agencies (MDAs) and private stakeholders in Seychelles to improve the IPR regime in the country and to enhance awareness within the industrial and service sectors on the close linkages between technology transfer and IPR.