Three babies born on international day of families
16-May-2018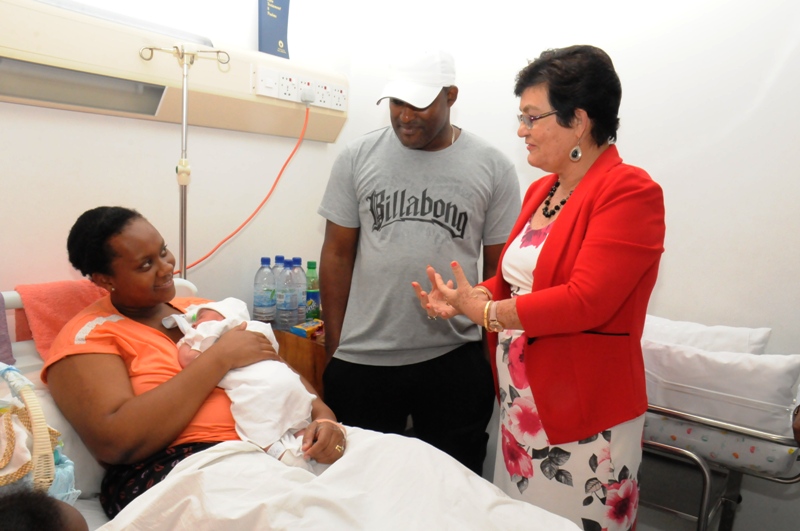 Family Affairs Minister Mitcy Larue yesterday visited three babies who were born on International Day of Families and provided the parents with a small token to honour the celebration.
The three babies are all in very good health, and were born at the maternity ward of the Seychelles Hospital.
The minister was accompanied by the principal secretary for family affairs Marie-Josée Bonne, nurse manager at the maternity Dang Kow and the chief executive of the Health Care Agency Dr Danny Louange.
Tessa Victor was the first mother to give birth at 7.13am yesterday to a beautiful baby girl named Avery Victor. The baby is Tessa's second child and is in very good health.
Tessa and Stephen Victor were very happy that their daughter was born on the International Day of Families.
The second baby in Seychelles to come into this world at 9.45am yesterday was a boy who parents come from La Digue. Maryse Hollanda and companion Roy Jacques have not yet decided on a name for their child.
Hours later, another baby girl was born at 4.04pm and the mother is Shamila Bistoé. She too has not yet decided on a name for her child.
All mothers who gave birth on May 15 onwards will benefit from the increase in maternity leave from 14 to 16 weeks and all fathers will get an increase in paternity leave from five to 10 days.
With regards to the paternity leave, in order for a father to benefit, his name should be registered on the baby's birth certificate as proof he is the father of the child and he will qualify for leave only once a year.
After the visit, Minister Larue stated that families are stronger and healthier when all people are empowered to access health care, acquire education, contribute to their homes and realise their full potential.
"The visit coincides with the International Day of Families and we want to welcome the newborns on such occasion and give support to the family. Effective from May 15 all parents will benefit from an increase in paternity and maternity leave," said Minister Larue.
She added that such increase in maternity and paternity leave will allow the parents to have a better bonding with their newly born child.
"When people think about bonding with a newborn, images of a mother and her baby tend to come to mind. While it is essential for mothers and their babies to develop a deep connection, it is also important for fathers to spend quality time bonding with their babies. The amendment in maternity and paternity leave would provide a much stronger bond for the families," she said.
The coming into effect yesterday of this amendment in maternity and paternity leave coincided with the International Day of Families.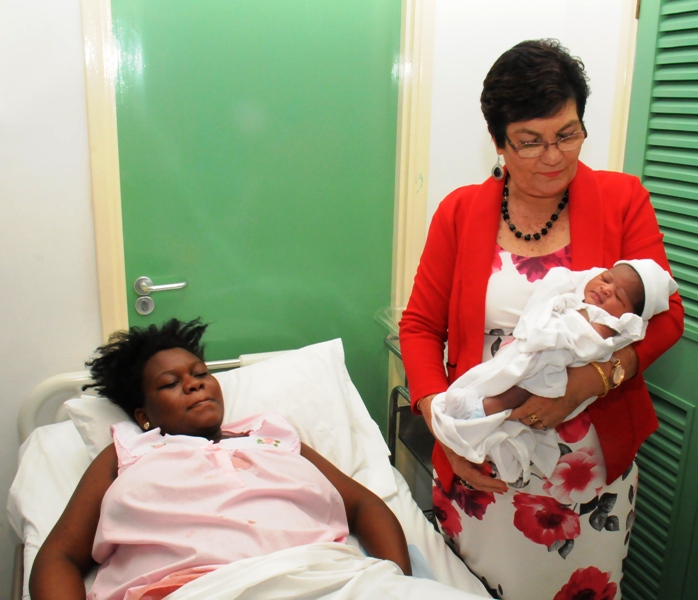 Minister Larue holding the babies of Maryse Hollanda and Shamila Bistoé