Seychellois women develop their entrepreneurial skills
13-June-2018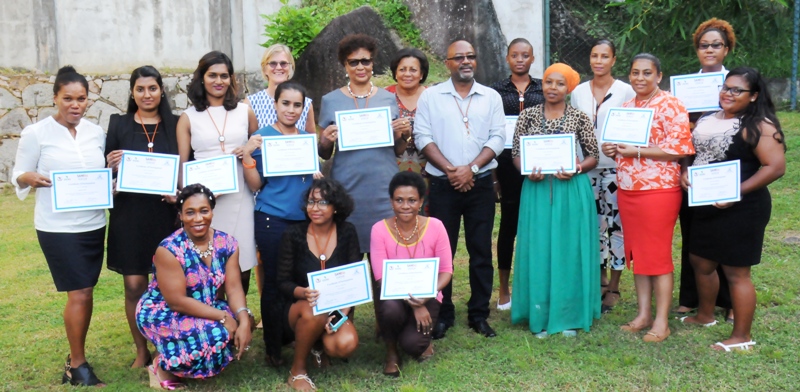 Twelve Seychellois women are participating in the international FemBioBiz acceleration programme which is being facilitated locally through the Guy Morel Institute in collaboration with the National Institute for Science, Technology and Innovation (Nisti).
FemBioBiz, which is in its second season, is an initiative of the Southern Africa Network for Biosciences (SANBio) which aims to support women bio-entrepreneurs to grow and start their businesses. The first season was conducted in 2017 wherein 101 women from nine SADC (Southern African Development Community) countries were selected.
It is the first time that Seychelles coordinates this programme which is focusing on empowering women to lead the sector of health and nutrition through science and innovation.
In accordance with the programme's agenda, the Guy Morel Institute (GMI) organised a pitching competition for the 12 participants to present their businesses and projects to a panel of four judges.
The judges also listened to presentations from three young Mauritian women who had to come to pitch their products in Seychelles due to the fact that Mauritius does not have a coordinating team for FemBioBiz.
Present for the occasion was the Chief Technical Advisor at SANBio's BioFISA II programme, Marja  Reetta Paaso.
The competition covered two categories: businesses and female students from tertiary institutions.
Telcy Estrade from the Seychelles Institute of Agriculture and Horticulture was the winner of the latter category.
"My product, a smoothie made with lemon and parsley, is one which can be used to help people lose weight," Ms Estrade said.
She further explained that her project was prompted by the increasing obesity problem in the country.
"I have seen members of my family struggle with obesity and because of this I could not sit on the sidelines and not do anything about it."
Rosie Morel's all-natural jam and pickle preserve business came out on top in the business category.
On her side, Mrs Morel said that her businesses' goal is to encourage the use of various local fruits, especially those such as mangoes that are often left to rot, for healthy value-added products.
Marie-Celine Zialor, the director of the Entrepreneurship Centre at GMI, said the pitch was preceded by a training workshop which covered elements such as business plans and how to pitch and present projects.
"This programme is a lot about capacity building and supporting the women entrepreneurs as well as the students with innovative business ideas in order to develop them further," provided Mrs Paaso.
She furthered stated that the pitching competition revealed many "interesting potentials" which was impressive in itself.
"What these entrepreneurs need is more support especially in terms of the financial aspect of running a business which we touched at various times during their presentations. They have to focus more on improving the finances and marketing," she relayed.
All 12 Seychellois women entrepreneurs are to embark on the second phase of the programme which would include more rigorous training sessions at GMI, a mentorship programme and yet another pitch competition.
After which candidates will be selected for the pitching event at the South Africa Innovation Summit in Cape Town.
Candidates from Seychelles will be up against other female entrepreneurs from Mauritius, Botswana, Malawi, Mozambique, Namibia, South Africa, Zambia and Zimbabwe.
The overall best performer will go on a journey to Europe's leading startups event in Finland and also receive a cash prize to develop her project.