PUC donates lathe machine, computers to SIT
13-June-2018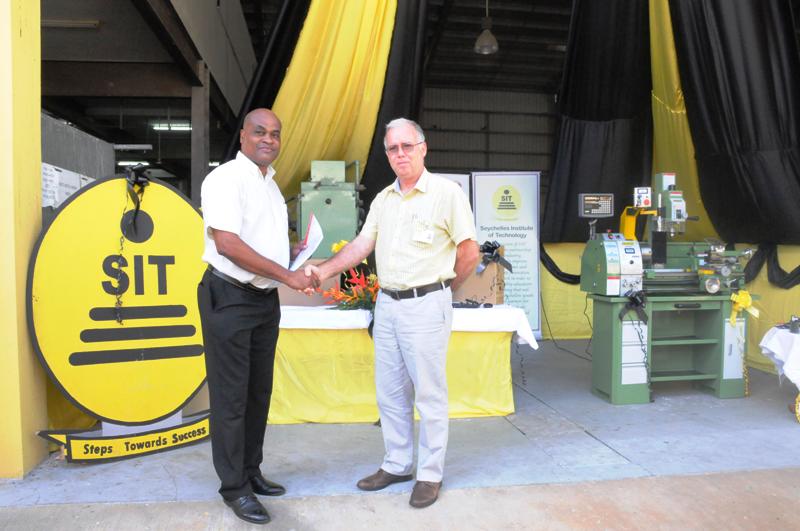 Students studying mechanical engineering at the Seychelles Institute of Technology (SIT) are expected to get a big boost in their training now that they have received some modern equipment to develop their skills and increase their experience.
The chief executive of the Public Utilities Corporation Philippe Morin handed the director of the SIT, Hubert Barbe, a numeric control, semi-automatic lathe machine together with different parts to operate different functions and two desk top computers effective in drawing 2D and 3D drawings of mechanical components for engineering purposes.
The handover took place in a short ceremony at the institute's campus at Providence yesterday morning in the presence of some students, staff, SIT board members and officials of the PUC.
The donation forms part of the PUC's corporate social responsibility initiatives and is in line with the agreement that it signed with the institute in December 2016.
With the donations the PUC is reaffirming its commitment to assist the SIT to develop and train young people which in the end will benefit our country in terms of trained manpower.
Mr Morin, who is also the vice-chairperson on the SIT board, noted after the handover that the two bodies have been working together for a very long time now and it is therefore fitting to boost this long-standing collaboration with this significant donation.
"I hope the students make the most of these equipment to help them make further progress in their career development to become qualified technicians in various fields of engineering," Mr Morin stated.
He went on to reaffirm the PUC's commitment to support and help the SIT in its endeavour to provide well trained manpower to meet the country's labour market demands noting that the PUC is one of the first to benefit.
For his part, Mr Barbe has commended the collaboration between the PUC and the SIT and expressed the hope that it will be an example for other companies to emulate.
"We are thankful that the PUC recognises the importance and the role of the SIT in training the students and as a potential employer it can in future guarantee to recruit any of our graduates to join its workforce," Mr Barbe pointed out.
Harish Ravi Sankar, a lecturer for mechanical engineering, said the numeric control, semi-automatic lathe machine is the latest model being used in industries today. 
"Our students will have the opportunity to use the same machine that they will use when they start work in an industry and this is good as they will be well acquainted and use to the experience and the exposure by the time they complete their training and start formal employment," Mr Sankar affirmed.
As for the two desk top computers Mr Sankar noted that they will be very effective in helping the students develop their drawing techniques and skills.