Celebrating the Silver Jubilee of the Constitution of Seychelles
13-June-2018
Our Constitution in the spotlight

It is very crucial for everyone to be aware of their civic duty to preserve, protect and defend the Constitution, the guarantor of rights and freedoms as well as the sacred values that it upholds.
In line with that civic right, members of the public are having the chance, through a series of presentations, to learn more on the function of key institutions mandated to deliver on some of the fundamental ideas and principles enshrined in the Constitution.
They are part of a series of activities organised to mark Constitution Week to commemorate the 25th anniversary of the Constitution and third Republic of Seychelles.
During the second presentation on Monday afternoon at the International Conference Centre of Seychelles, attorneys-at-law Bernard Georges and Edith Wong, along with Joelle Barnes, the executive legal assistant to the Chief Justice, gave reviews on various developments occurred during the 25 years of Constitutionalism in Seychelles.
The event which was moderated by the President of the Court of Appeal Francis Macgregor was attended by Chief Justice Dr Mathilda Twomey, Ombudsman Nichole Tirant-Ghérardi, judges, lawyers, along with staff and students of the Law Department at the University of Seychelles.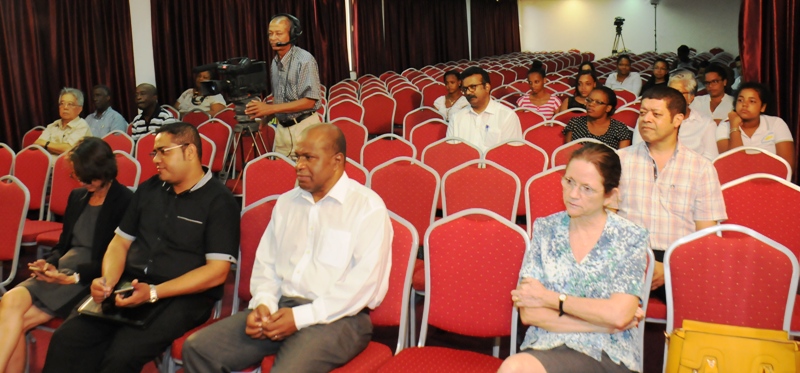 In his presentation – Update on the constitutional review commission 2008 – Mr Georges talked about the outcome of the work of the Constitution Review Committee set to conduct a thorough examination of the 1993 Constitution in the light of developments and changes which have taken place.
In the process, the committee had to make appropriate recommendations to bring it in line with the said developments and changes so as to further secure the attainment of the goals and fulfillment of the aspirations of the people of Seychelles as enshrined in the Constitution.
As for Ms Wong, her presentation – 25 years of Constitutional Jurisprudence – was based on short analysis on the references of the constitutional court, looking at the rate of disposal of cases, as well as the outcome of those cases.
In her presentation – 25 years of Constitutionalism in Seychelles-a review – co-authored by the Chief Justice, Ms Barnes highlighted on the major systemic problems which exist in the jurisprudence of the court, as well as the incremental developments.
The presentations will run all week up to Friday and they focus on the significance of the organs of State, its institutions and the symbols, all of which bring vitality to the functioning of the third Republic, now celebrating its 25th year anniversary.
This Silver Jubilee celebration is also an occasion to reaffirm the essence of the supreme law of the land in promoting our spiritual, cultural and natural heritage.