Message by the Minister for Family Affairs, Mitcy Larue, on the occassion of World Population Day
11-July-2018
Seychellois urged to reflect on impact of population ageing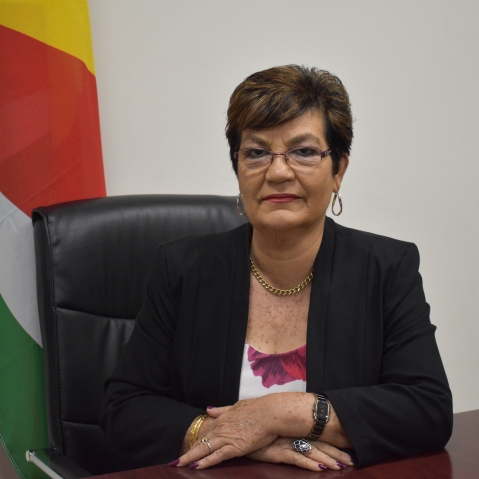 The Minister for Family Affairs Mitcy Larue has called on all Seychellois to inform and educate ourselves on the impact and consequences of Population Ageing.
The call comes in the minister's message on the occasion of World Population Day today.
The full text of Minister Larue's message reads:
"Today, July 11, we join the international community to commemorate World Population Day.
"This is an occasion to raise awareness about the importance of population and development issues on people's lives and to focus attention on the fact that population is not just about numbers but also about quality of life.
"This year's local theme is centered on the issue of population ageing, a phenomenon that is happening all around the world. I am pleased to state that a National Policy for Ageing was recently approved by the Cabinet of Ministers. This policy will guide our efforts as we plan to face the opportunities as well as the challenges of an ageing population.
"As we look around us today, the signs of population ageing are evident across all sectors of society. Fifty years ago, it was the norm for a woman to have 5 or 6 children. Today on average, a Seychellois woman gives birth to 2 children. Today, people are living longer and healthier lives. They are also more active and contributing to their families and communities.
"But this demographic trend of declining fertility and increasing longevity means that the working age population is shrinking while the proportion of older persons is growing. It is the implications of this situation that we must address.
"Because population ageing and growth in the number of persons at very advanced age, means added pressure on Long Term Care Systems, increasing demand for home and residential care, health services and technologies to prevent and treat non-communicable diseases and chronic conditions associated with old age.
"We also know that the elderly population is not as productive as people of working-age. This is why measures are being considered to increase the statutory age of retirement in an effort to prolong the labour force participation of older persons and improve the financial sustainability of the pension system.
"But the ageing of our population is not just about challenges. Our country can afford to grow old if we address the issue in a serious and committed manner. Paramount in our effort is national coordination. This is why every sector must come together under the aegis of the National Policy for Ageing to assess our preparedness to population ageing and start developing the strategies to reorient our services and programmes.
"While some may argue that the full consequences of population ageing will only be felt in 30 to 40 years' time, I would like to point out that we are not necessarily talking about the present elderly population. It is those of us in our 40s and 50s who will be most affected by its impact. This is why we must plan not just for today's elderly population but also for the next generation of elderly citizens.
It means not only ensuring the financial sustainability of our social protection system but also exploring new avenues and options to create innovative employment opportunities for older people. It means changing our perceptions about ageing and being more positive about growing old.
"Growing old does not have to equate with retirement. There are other models of employment that should be explored to allow people who want to continue to work to do so. Older people have acquired a wealth of experience and wisdom. They should be allowed to pass this knowledge to society. We must also ensure that we maintain an adequate standard of living for people as they grow older, while recognising and harnessing their skills and encouraging harmonious intergenerational transfers.
"I would like thus on this World Population Day to call on all Seychellois to inform and educate ourselves on the impact and consequences of Population Ageing. During the coming months, the Ministry of Family Affairs and its partners will be organising a series of activities to facilitate discussion on the relevant issues. It is important that we participate because we can help to determine the measures that we adopt as a country for this new challenge. There is a role for every Seychellois because the family has a central role to play in this national endeavor.
"I am confident that we shall rise to the task because our society has always valued its elderly citizens. Their dignity and well-being will always be central in all our discussions and decisions. Together, we can take the steps to ensure that we realise our vision of having a society where the elderly remains valued, are fully empowered to participate and benefit in development and are able to live active, healthy and dignified lives."