Canadian HC pays farewell call on President
11-July-2018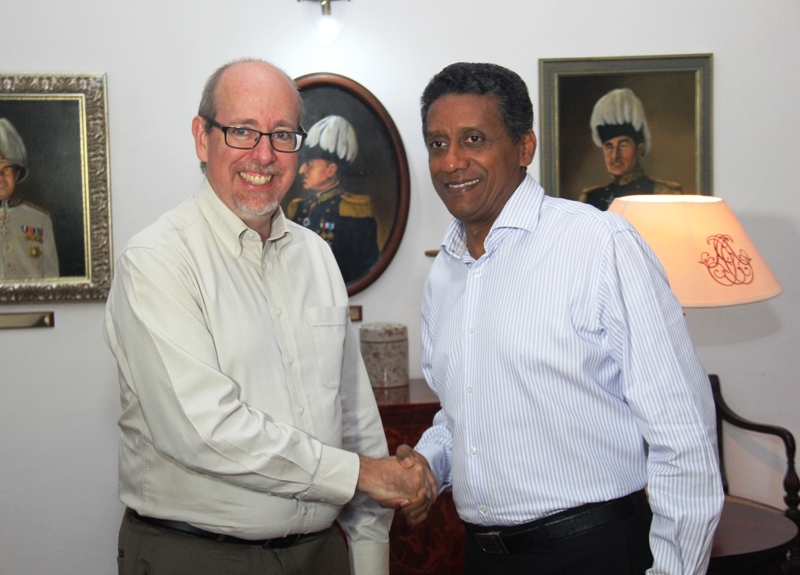 The outgoing Canadian high commissioner (HC) to Seychelles, Ian Myles, paid a farewell call on President Danny Faure at State House yesterday afternoon.
Mr Myles had been serving as high commissioner to Seychelles for the past two years since he last presented his credentials to President Faure on December 20, 2016.
Mr Myles said the visit was to thank President Faure for the excellent collaboration between Canada and Seychelles and to get his feedback and impressions on the G7 meeting held in Canada last month.
The discussions held between Mr Myles and President Faure focused on the blue economy and Seychelles as a small island states and its global reputation in the sustainable management of its oceans.
The same subject was also discussed at the Commonwealth Head of Governments Meeting (CHOGM) held in London recently.
Mr Myles said that despite the difference in the sizes of Seychelles and Canada and the vast oceans that separate them, both countries will still continue to work within the diaspora of the G7, the Commonwealth, the United Nations, the Francophonie, the blue economy and combating maritime and anti-piracy surveillance.
"We will also be working on issues around human rights. It's clear to me that Seychelles and Canada have both embraced diversity and I think this makes us unique in the world when the world is grasping on how to deal with its differences. I think Seychelles is a good example of how different countries with different cultures and races can live harmoniously and that is what we are trying to do in Canada as well," Mr Myles said.
Ongoing discussions on collaboration in the education sector between Canada and Seychelles is still yet to be materialised. At present some Seychellois students are undergoing scholarships in Canada funded by the Francophonie.   
Based in Dar es Salaam, Mr Myles was also accredited to Tanzania, Zambia and the Comoros.
Seychelles and Canada established diplomatic ties way back in 1976.