Putting the spotlight on population ageing
11-July-2018
Population ageing is all about the sustainability of our nation and as such it is crucial for all stakeholders to come together to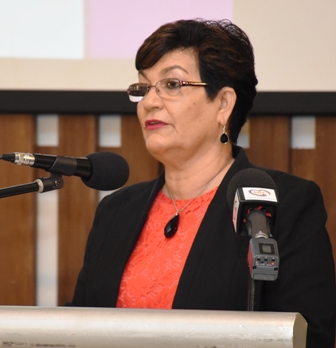 find innovative solutions for the future.
"The sad reality is that if we do nothing, it's very likely that soon we shall find ourselves in perilous situations where the financial integrity of our social security system is compromised, our health care system incapacitated and our economy weakened. The final analysis is that population ageing is all about the sustainability of our nation," the Minister for Family Affairs Mitcy Larue has said.
Minister Larue was speaking at the official opening of a two-day high-level symposium on population ageing at the AVANI Seychelles Resort & Spa yesterday.
The symposium follows the recent approval of the National Policy on Ageing by the Cabinet of Ministers and a statement by Minister Larue to the National Assembly on the same subject.
The symposium, which brought together around 100 participants, including decision and policy-makers, is aimed at raising awareness on the impact of population ageing on Seychelles society and economy; presenting the eight thematic areas of the national policy on ageing to all stakeholders and partners; assessing the readiness of key sectors to address population ageing and prioritising key areas for short-, medium- and long-term action.
The expected outcome will result in the finalisation of a plan for action prioritising areas for action as well as the setting up of the necessary structures and mechanisms to address population ageing.
Various papers were presented like the national policy on ageing itself; health and well-being of old people; labour, employment and the economy; sustainable income maintenance and service provision; age-friendly environments; participation in development and inter generational solidarity and combating ageism, neglect, abuse and violence to elderly people.
"This symposium is a first to put population ageing on the national development agenda. This policy is not just about elderly people. It is not about how we treat them. This policy provides a roadmap on how we address the changing population structure of our society," said Minister Larue.
Regarding ageing population, the minister said our responsibility therefore is to come together to find innovative solutions for the future.
"We can change the discourse on ageing. We can change the negative narrative," she said.
Minister Larue also spoke on the challenge with population ageing, which, she said, is not that we will have more elderly people in our population but the world which we live in today has been constructed to the ideals and assumptions of a youth-centric model of development.
"How many of us look forward to being old? How many elderly persons feel they have real power and autonomy over their own lives? How many feel they are a burden to society, their family and can no longer contribute?"she asked, adding old age has become synonymous with being slow, lonely, sick among others.
She said there is a simple reason why we have to change these beliefs, mentioning several options to achieve that.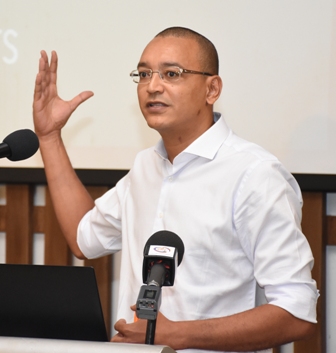 In his overview on the national policy on ageing which he drew up, consultant Andy Jean-Louis pointed out several factors which clearly show an ageing population.
He said the population is not increasing but replacing itself and the traditional trend where we had more younger people than elderly ones has been reversed.
People are producing less children and the increase in life expectancy from 60 years in the years 1950-1960  is now 70 years or over.
The work force is ageing while the proportions of older persons is growing.
Mr Jean-Louis said the goals are through the participation of stakeholders to develop a comprehensive and coherent national response to ageing that is sustainable.
Yesterday the participants broke into group work to be followed by group presentations later.