Football: Airtel Cup - Côte d'Or win, Northern Dynamo draw to qualify for quarterfinals
06-August-2018
Defending Airtel champions Northern Dynamo drew 3-3 with Revengers on Friday evening at Stad Linite to qualify for the quarterfinals of the same competition and on Saturday on Praslin, Côte d'Or defeated Red Star Defence Forces 4-3 to complete the line-up.
Musa hat-trick keeps Northern Dynamo in cup defence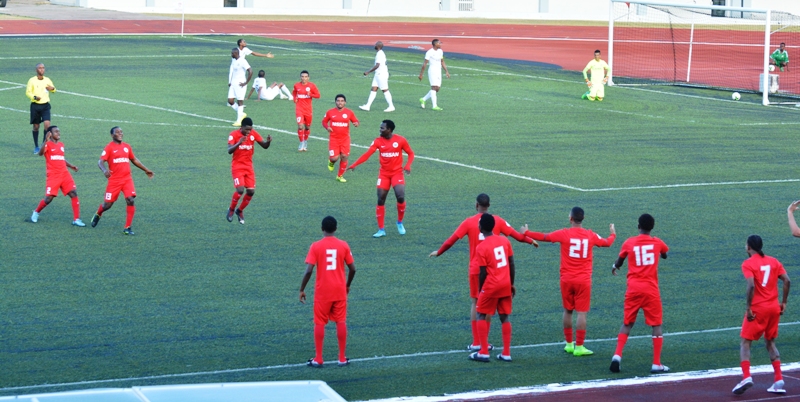 Gambian striker Musa Njie hit a hat-trick on Friday in a pool D match to keep his side and defending champions Northern Dynamo in the Airtel Cup with a 3-3 draw against Revengers of Praslin to claim the runners-up spot.
Northern Dynamo made a very solid start to this final pool match where they needed at least a draw to eliminate their opponents and they took the lead in the 25th minute.
It all began from some swift passing as Malagasy Rajamana released Marcus Maria who was clearly offside but assistant referee James Emile did not spot the infringement to allow play to go on and Maria set up Njie who twisted and turned before toe poking the ball past goalkeeper Nerry Luc to make it 1-0.
Two minutes later, Njie again threatened as he latched onto a through ball from Rajamana to cut inside a defender and his stinging shot was parried by goalkeeper Luc.
Revengers should have drawn level in the 33rd minute when Malagasy Marthelin laid the ball on a plate to Jocelyn Cushion who blazed the ball wide when he should have hit the target.
Revengers were made to pay for their miss a minute later on a counter with blistering pace which had devastating effect as Northern Dynamo went 2-0 up.
Maria picked up a loose ball in his own half from a Revengers' corner which had come to no avail and he spread it out to Njie who turned on the speed to leave defender Herve Cesar in his wake from the half way line as he bore on goal to rifle the ball past goalkeeper Luc for a 2-0 lead.
In the 36th minute, Rajamana almost increased Northern Dynamo's lead from Maria's cross-field pass to Aldo Dufresne who then teed the Malagasy midfielder whose sweetly struck volley was turned away by goalkeeper Luc.
Revengers though were given a lifeline on the stroke of half-time following Malagasy Herod Stephan's free kick into the Northern Dynamo penalty and the ball inadvertently came off defender Dufresne to wrong foot goalkeeper Ricky Pool for a 1-2 score at the interval.
Rajamana wasted a glorious opportunity to restore his team's two-goal cushion in the opening minute of the second period from an inch-perfect cross by Maria but his free downward header sailed over the crossbar.
The match opened up in this second half and in the 54th minute Revengers should have levelled the score as Malagasy Christophe threaded a pass to Marthelin who raced clear but he shot wide with the goal at his mercy.
In the 65th minute, Northern Dynamo were awarded a penalty when Herve Cesar handled the ball from Maria's corner which had dropped invitingly to Njie who looked odds on to shoot at goal but the defender blocked the ball with his arm.
Njie took responsibility of the spot kick and he scored emphatically with a low shot into the bottom corner past goalkeeper Luc to make it 3-2 and complete his hat-trick.
Revengers though did not give up as they reduced the arrears four minutes later when substitute, Malagasy Patrick Rasaminana linked up with Marthelin who thumped the ball from 30 metres out into the roof of the net for a 2-3 score.
Six minutes later, Marthelin went mighty close to level matters as he collected a cross from Dine Suzette but his shot was cleared by goalkeeper Pool with his outstretched leg.
Revengers also were awarded a penalty in the 76th minute when Malagasy Rasaminana was brought down by Northern Dynamo's Darren Anaou and he picked himself up to send goalkeeper Pool the wrong way to make it 3-3.
Revengers then went in search of a victory which would have qualified them for the next stage and they had two gilt-edge chances in added time.
In the 91st minute, Revengers won a corner as they put pressure on the cup holders who were hanging into this competition by a thread.
Rasaminana lofted the corner into the penalty area and it got a slight deflection to fall nicely to captain Kevin Prosper who was suspiciously offside but he failed to tuck home from close range.
In the 93rd minute, Rasaminana floated another corner in a crowded penalty area but Herod could not guide his glancing header on target as Northern Dynamo survived a late onslaught to maintain their title defence though coach Cliff Nolin was very disappointed with how his players slackened late in the second half which almost got them beaten.
"We had a very good first half where we were in control of proceedings but we then had a lapse in concentration and committed too many mistakes and our level dropped as our substitutes did not perform to the expected level which almost cost us dearly, but at least we managed to qualify for the quarterfinals which is most important at this stage," coach Nolin told Sports NATION.
As for new Revengers coach Honoré Saindini, he felt his team could have won this match despite a slow start.
"We took too long to get into the match as we had a catastrophic first half but we grew in confidence in the second and even had two good scoring opportunities to win which we unfortunately failed to convert," claimed the Revengers coach.
Northern Dynamo, who finish as runners-up in pool D, will meet group B winners St Louis on Friday in the first leg of the quarterfinal which is a repeat of last year's final while pool D winners LightStars will play St Michel on Thursday on Mahé.
Côte d'Or overcome Red Star Defence Forces to qualify
Praslin outfit Côte d'Or needed all three points against Red Star Defence Forces to qualify from this group of death, pool A, in a decisive match played on Saturday at Stad Amitié.
In fact there were a lot at stake in this match as all three teams, including La Passe, still had a chance to qualify if Côte d'Or won by a two-goal margin which would have eliminated Red Star Defence Forces.
Côte d'Or got off to a dream start as they took the lead in the 12th minute from young striker Dave Brioche for a 1-0 lead and Malagasy Kassah Voavy made it 2-0 in the 26th minute.
Kassah bagged his brace on the stroke of half-time to give his team a commanding 3-0 advantage at the interval.
The army team though clawed their way back as Leeroy Corallie scored in the 50th minute to make it 1-3 but Kassah completed his hat-trick on the hour mark for a 4-1 score.
Red Star Defence Forces reduced the deficit in 83rd minute when Côte d'Or defender Oliver Bonté brought down Corallie and referee Bernard Camille pointed to the penalty spot where former Côte d'Or midfielder, Malagasy Jean Tigana, stepped up to shoot past goalkeeper Neddy Lesperance to cut the deficit to 2-4.
Malagasy Michel Nambintsoa added a third goal for Red Star Defence Forces in the 93rd minute as he cut inside a defender to let fly a cracking shot to make it 4-3 the final score to help his team win this pool while Côte d'Or are runners-up as three teams finish with five points but goal difference was needed to decide the two qualifiers.
Red Star Defence Forces manager Philip Barbé was relieved his team had held on to qualification in a tense match.
"It was a match of high intensity but we gifted our opponents three goals through defensive errors but we are happy the players responded positively after the half-time team talk and made up for a poor first half and secure qualification which was our main objective in what was a very tough match," manager Barbé said as his team lose their unbeaten run since the start of the season.
As for Côte d'Or coach James Barra, he was happy they had won to qualify for the next round where they will play Foresters on Saturday on Praslin while Red Star Defence Forces will clash with Au Cap on Saturday at Stad Linite.
"We made a very good start in the first half but we gave away a cheap penalty which then made life difficult for us but the important thing was to win to assure qualification for the quarterfinals," coach Barra said.
The two-legged quarterfinal matches will began this Thursday for the eight remaining teams in this year's Airtel Cup competition.
R. J-L.