British artist displays artwork
06-August-2018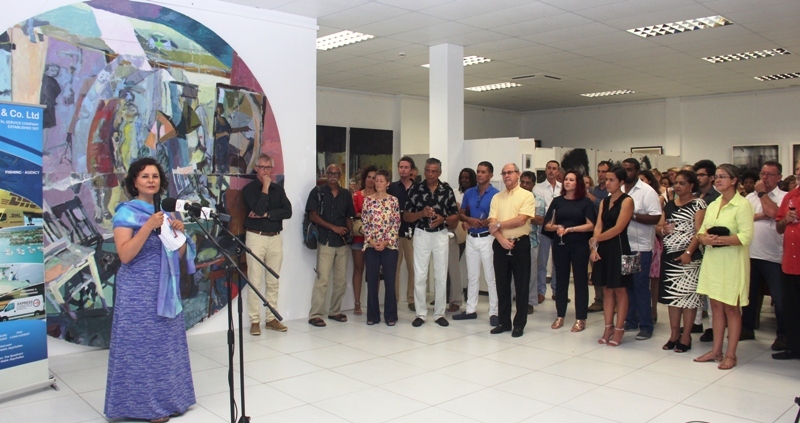 Art lovers have until the end of this month to see artwork of British abstract artist, Laura Jacobs. 
An exhibition of her works officially opened at Eden Art Space gallery, Eden Plazza, on Friday evening.
Ms Jacobs' work is diverse, showcasing drawings, paintings, prints and mixed media pieces, to sites specific installation works.  
Her works can be described as figurative where things from the real world -- people, objects, locations etc. -- can be recognised.  
Some huge drawings and paintings hang from top to bottom from the ceiling with the smallest lying low at ground level.
The narrative works, mostly in series, depict the personal experience and feelings of the artist -- her life, family and surroundings.
"There is a narrative that runs through the works which is very much about my personal experience. The work is very personal. So it's about my family, my life, my surroundings … things that are very important to me in my life," Ms Jacobs said.
"I work very much from drawings from life. So I work on what is in front of me, mixed with what goes on inside my head. This is how I make sense of my world," Ms Jacobs said, noting that she was inspired by popular life painting abstract artists.  
Jacobs is in Seychelles at the invitation of Arterial Network Seychelles as part of a cultural exchange programme. During her stay, she will be hosting lectures, workshops and meet local artists and art students. The first lecture is on August 8 at Eden Art Space gallery at 5pm for invitees only because of limited space. But all are invited for an open public lecture on August 10 at the University of Seychelles (UniSey), Anse Royale, at 3pm.
Present at the opening of the exhibition on Friday were Designated Minister Macsuzy Mondon; the Minister for Tourism, Civil Aviation, Ports & Marine Didier Dogley; the British high commissioner, Caron Roshler; the Russian Ambassador, Vladimir Belous; among other guests.
During the past 10 years, Ms Jacobs has lived, worked and exhibited her works mainly in New York where she did her art studies, as well as in London. Her exhibition here has been sponsored by the British high commission and Hunt, Deltel & Co Ltd.
A representative of Arterial Network Seychelles, Martin Kennedy, said as there are few abstract artists in Seychelles, it was decided to bring in this kind of art so that the people can see a different way of creating figurative, narrative art.
Mr Kennedy thanked everyone, especially the British high commission and Hunt, Deltel & Co Ltd. for helping to make the exhibition a reality.
Seychellois abstract artist Leon Radegonde described the work as very interesting and said he is waiting to interact with the artist to exchange ideas on her work techniques as compared to his abstract art style.
Artist George Camille, who was impressed with the artwork and the unconventional format display of the British artist, said: "At times the way you present your work as an artist not only showcases your personality but shows that improvisation of an artist comes from the manipulations of the material used. This exhibition will motivate artists to create just from looking at what is accessible around them."
The exhibition will remain open until August 31.
The accompanying photos show guests viewing the exhibition after its opening on Friday.