Yachting: Indian Ocean Cup 2018 – Day 5
10-August-2018
Dominique Labrosse, Rebekah Payet move to the top
Allan Julie in a world of his own
Dominique Labrosse and Rebekah Payet took the lead in the Laser 4.7 and girls' Optimist classes respectively after the fifth day of competition at the ongoing Indian Ocean Cup in Reunion, while veteran sailor Allan Julie is in a world of his own in the Laser Standard category.
After day five of the regatta on Wednesday, Labrosse took the lead in the Laser 4.7 group after claiming four first places ahead of second-placed Mauritian Hemsley Lim Sik Fang.
Seychelles' other contestant in the group, Samantha Faure was ranked fifth.
In the Optimist class for girls, Payet moved to the top of the group, ahead of compatriot Jasmin Monthy who was occupying second spot.
Seychelles' other young sailor in the group is Stephanie Lalande who was fourth overall.
In the boys' group, Dean Mathiot was third, while Fabio Bertola Thevenon was ranked sixth overall.

Anthony Toussaint was ranked 14th overall after day five, while David Madeleine, who is competing in the Laser Radial group, was in fifth overall spot.
As for Allan Julie, he comfortably sits on top of the Laser Standard class standings ahead of his only opponent, Mauritian Kevin Seebaluck.
Julie has won all of his races at the competition so far.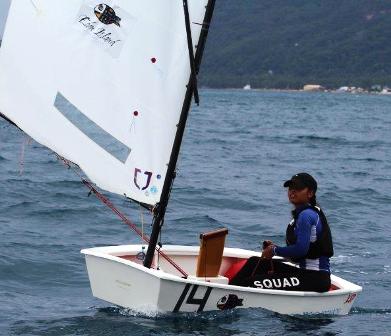 R. D.