IFS funds new bus shelter for Anse Aux Pins commuters
10-August-2018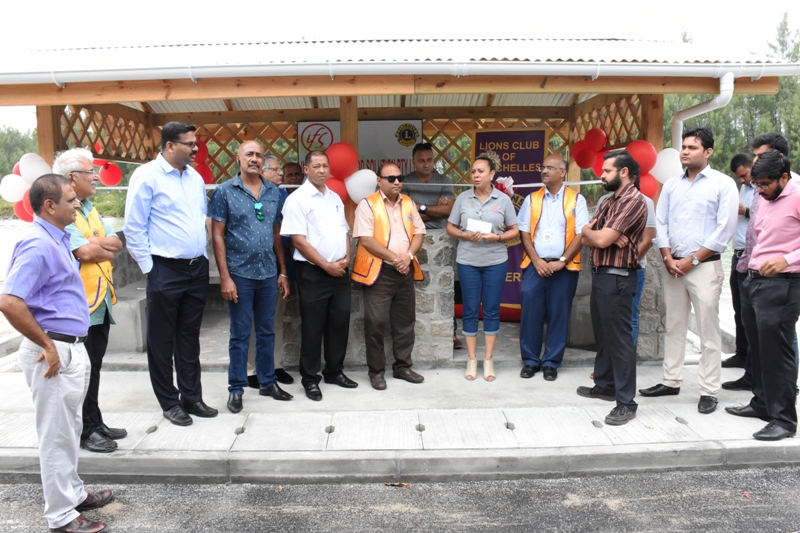 A new bus shelter to benefit commuters in the Anse Aux Pins district was officially opened yesterday morning.
Built right opposite the Care Free Guesthouse at Anse Aux Pins, the new bus shelter has been sponsored by the International Food Solutions (IFS) in collaboration with the Lion's Club of Seychelles.
Bajrang Builders was the contractor in charge of building the shelter whose foundation stone was laid on April 8 this year by the Lion's Club District 411A district governor, Anne Chubi.
In a short ceremony in the presence of IFS representatives, Lion's Club members, the chief executive of Seychelles Land Transport Authority (SLTA) Parinda Herath, member of the National Assembly for Anse Aux Pins Clifford André and district administrator Travis Chang Peng Tive, the bus shelter was officially opened and handed over to the district's commuters.
IFS' manager for human resource and administration, Gretel Legras said it was the Lion's Club who approached IFS to help the SLTA by funding the new bus shelter and they so willingly provided the money.
The shelter has cost R165,353 and Ms Legras stated that the construction works took around one and a half months to complete as there were the usual ups and downs encountered while the work was underway and they had to liaise with SLTA at the time.
As well as giving back to the community, Ms Legras said the facility will also provide good marketing for IFS products through the advertising boards which will soon adorn the walls.
"It will help us put our projects and marketing brand up so in a way this bus shelter will also help us to make our products better known in the community," said Ms Legras.
During the ceremony, DV Sharma, Lion's Club Seychelles' newly elected president, expressed his gratitude towards the IFS who responded promptly and provided the financial support for the project. He said the bus shelter will bring more comfort to commuters from adverse and extreme weather conditions while they wait for the bus.
MNA Clifford André stated that it is through gestures such as what IFS has done that helps a community move forward.