Civil weddings now being celebrated at Mayor's office
10-August-2018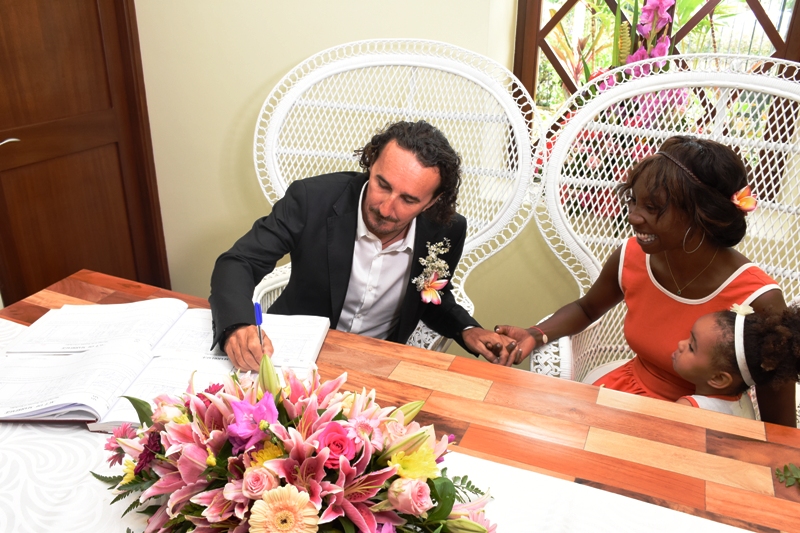 The first civil wedding to be celebrated at the Mayor's Office in Victoria took place yesterday morning following the signing of a memorandum of understanding between the civil status department and the Mayor's office.
Principal secretary for immigration and civil status Alain Volcère and Mayor of Victoria David André signed the agreement in a brief ceremony at the Mayor's office,State House Avenue.
The agreement effective immediately means all civil weddings will now be celebrated at the Mayor's office, and not at the civil status office, Independence House.
Principal civil status officer Marietta Labrosse says the arrangements came about to address the space constraints at civil status.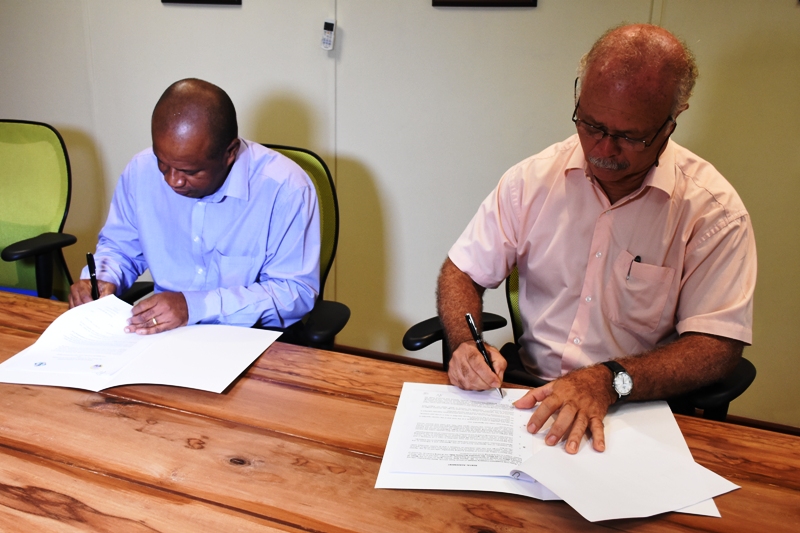 "Civil status is too small. It's much bigger here at the Mayor's office. Couples can come with friends and family and celebrate in comfort," she pointed out.
Mayor of Victoria David Andréand PSAlain Volcére both expressed their joy and congratulated the newlyweds Arnaud Martin and Dolores Martin, née Aglaé.  
Mayor Andrésaid that the Mayor's office, a building dating back to 1903, is the perfect venue for civil weddings.
"I am happy that this materialised today. This building is beautiful, historical and exciting. As someone with an artistic background, I feel as though it is inspiring and evokes emotion," he said.
PS  Volcère thanked the mayor and all his staff for offering the civil status department the venue for all future civil weddings.
"It is a historical occasion that we have been able to sign this agreement. Marriage is a special occasion in someone's life and should be celebrated somewhere convenient, with comfort and prestige," he added.
They both then joined the couple and their families for the wedding ceremony and a toast.
The bride, a Seychellois national who has lived abroad for a number of years, said she is pleased to have been married at the Mayor's office, a building she recalls was a library when she was a child.
"I am very appreciative that our wedding was the first to be celebrated in such a beautiful setting where our family and friends can be present. The setting is beautiful,"she said.
Civil weddings will take place on Tuesday and Thursday mornings. Couples can also request for their wedding to be celebrated on Saturdays for a fee of R1,500. Registration and formalities for civil weddings remain at civil status, Independence House.