President Faure assents to Seychelles HumanRights Commission Act
10-August-2018
● Signs into law amendments to Civil Status Act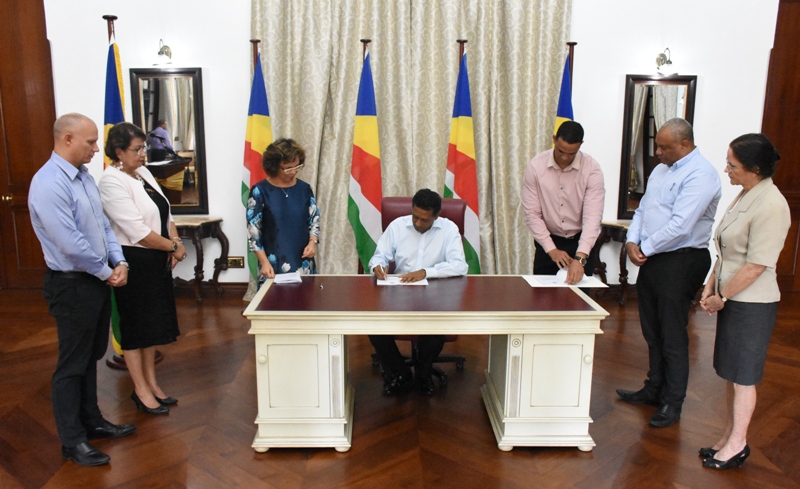 President Danny Faure yesterday assented to the Seychelles Human Rights Commission Act 2018 and signed into law amendments to the Civil Status Actduring a brief ceremony held at State House.
The Bill was presented to the National Assembly by the Minister of Health Jean-Paul Adam on behalf of the government, and was then approved by the National Assembly on June 5 this year.
In a speech before the president signed the new Act, Minister Adam said the Act reinforces principles found in the Constitution as well as ensures that the institutions are in line with the Paris principles.
"The reinforcement of this institution is very much in line with the priorities that President Danny Faure outlined to emphasise transparency and to give recourse to every citizen, no matter their background or their capacity," Minister Adam stated.
He added that citizens will have their rights enforced throughout their lives and receive the support necessary whenever they feel their human rights have been disrespected.
The Act makes provision for the setting up of a Seychelles Human Rights Commission which will comprise a chairperson, deputy chairperson and three ordinary members.
Speaking to the media, Attorney General Frank Ally said the concept of a human rights commission is nothing new to the country since a National Human Rights Commission formerly existed under the Protection of Human Rights Act, which has now been repealed and replaced by this new law.
"This law will do away with the current commission and a new commission will be established, the Seychelles Human Rights Commission," he stated.
He further noted that this commission will have more powers compared to the previous one such as the ability to conduct investigation; the power to initiate proceedings before the Constitutional Court; help complainants and, if necessary, even help them financially to initiate proceedings before the Constitutional Court.
The commission will also bear the duty of educating the public on human rights.
Mr Ally has explained that the Seychelles Human Rights Commission will not affect the work of the Ombudsman's office and stated that, in fact, both bodies should work in sync and in partnership when necessary.
President Faure has also signed into law the amendments to the Civil Status Act which will require that fees charged for celebrating marriages by Civil Status officers at private venues are paid into the Consolidated Fund.
Officers who celebrate marriages at private venues will in turn receive an allowance for such functions in accordance with a scheme of service.
Under the Act as amended, the minister will make regulations concerning the level of fees charged for such services, the times at which ceremonies can be held, and any related matters.
The amendments will bring greater order and transparency to the provision of these services.