Karting championship round 8
11-September-2018
Delroy Lionnet wins extraordinary Cadet round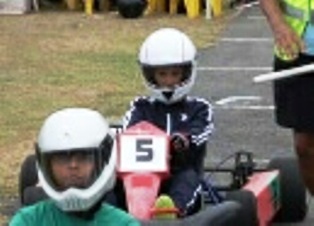 Delroy Lionnet was the only finisher in an extraordinary Cadet final he won last Saturday at the Champions Park Raceway, Roche Caïman.
In the main final, where the top Cadet drivers – Dhruvil Vadhrodia, Daryl Gabriel, Laurent Lalande, Ruben Magnan and Delroy himself – contested, everyone was looking at the top two starting from pole position to win. But as they were impatient to wait for the race to develop, the group of Vadhordia, Gabriel and Magnan dived into the tight hairpin together and crashed into each other dropping them out on the very first lap.
This allowed Delroy, who was further back, through to lead against Laurent Lalande. As the two got to the final lap, they were shown the last lap flag, and Lalande mistook it for the end of the race and took the short cut across the hairpin which led to a disqualification, Delroy, in the meantime, crossed the line as the winner and only finisher.
Vadhrodia still maintains a big lead in the championship, while Lionnet moves up to sixth.
In the Junior final, Aaron Michel took the win to extend his lead in the championship by 15 points, but with the return of Cedic Ah-Time who finished second, he will have to keep a wary eye over his shoulder in the coming races.
Eric Maillet took third place.
In the senior classes held on the Sunday, Dominic Morin won the SF3 class from Amadave Camille with Fabio William third, whilst the SF2 was won by Marc Delcy from Peter Fred and Krisl Gopal third.
In the SFLadies, Liza Rene-Cosgrow took victory over Mitra Labrosse with Louisa Lafortune third, whilst the SF1 class was won by Dave Rene, with Liza second and Andy Denousse third.
Contributed